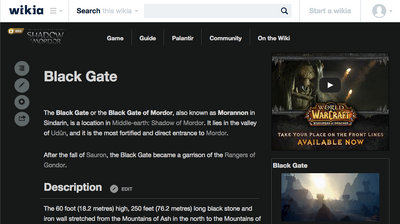 Our wiki is fixing to change. Somewhat drastically. I love this wiki very much and would do anything to protect it. Because of this I am trying to stay abreast of all of the latest updates on Community Central, and several things are fixing to change, whether we like it or not. I don't know when it will be forced upon all wikis, but a few wikis are already using the "prototype" version, and a wiki can "sign up" to try out this new beta version wiki...
The first change you've probably noticed is the ungodly wikia banner at the top of the page. It's the first of three phases. The second phase will make the banner move with the page... The third phase will keep the banner at the top of the article and after you scroll down to where it clears it, you won't see the banner again, only the page...
I miss the old banner so much. The search on the right. The color scheme... it went so well with our wiki... I have voiced by displeasure with the new banner a couple of time over there... as have thousands of others.
Also, starting tomorrow, another new feature will be activated. Just as there are chat moderators, there will now be forum moderators, and, if your wiki has a message wall, message wall moderators, that can be added, same as for their chatroom counterparts.
There are a couple of wikis that already use the new "prototype" wikia wiki.... The fonts will have to be redone (as well as colors, and basically, the whole scheme). The Table of Contents, edit, history, etc, are now crammed into the buttons on the left. Everything is supposedly going to be simplified, upgraded, modernized, whatever... Not sure if that is going to be a good thing, or not, but I definitely yearn to keep the wiki the way we know and love.
All of my updates have only been for the overall good of the wiki, and no matter what happens, I'll be around to help ensure that our wiki is the best it can be. Ai yi yi... what a way to bring in a new year. More stress! Why can't they just leave well enough alone...? Oh well, I'm sure we will all adapt. Grumble grumble....
No matter what, I'll still be here. I love you guys!