I love all of you guys and have not forgotten about any of you! I check this wiki regularly and will resume the ABC swipe as soon as possible. I know I've been a little busy so rather than type a new blog post I've decided to recycle my Christmas blog post from last year. New updates are coming soon! Merry Christmas everybody!

Merry Christmas to everyone here at the True Blood wiki! As 2014 and the Christmas season comes to an end, I want to wish everyone again a very Merry Christmas and good tidings towards the coming of a new year.
While most people forget the true reason for the season, making it all about commercialism, other than birthdays, Christmas is the only other time people give out good gifts. (Hey, I'm all for giving a loved one a copy of True Blood for Valentine's Day, but Christmas is the best time to give out True Blood themed merchandise. Don't get me wrong, Halloween is a great time to throw a True Blood themed party, but when it comes to giving out True Blood related merchandise, Christmas is the best time to do it.)
So how many of you received a copy of the Season 7 DVDs for Christmas? How about the Complete Series? Any other seasons?
While it is horrible that the series has come to an end, HBO did at least do one thing that was considerate of its viewers - rather than making us wait until this coming year to complete our collections, the seventh, and final, season was released before Thanksgiving. But even better the Complete Series, all 7 seasons on 33 DVDs, was released on the exact same day.
Hopefully everyone got what they wanted, and love what they got. I do. I got a few things I was wanting/needing, although, unfortunately I didn't get any True Blood stuff, despite all of the subtle hints I had been passing around. No biggie. I plan on getting a whole plethora of True Blood merchandise in the coming year. Hopefully if things work out I will try and do some kind of promotion or giveaway, similar to the one done here, a few years back.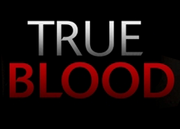 For now, I'm going to sit back and wait for the influx in updates here at the wiki. As most people probably received the DVDs for Christmas, I'm almost positive the number of updates are going to increase tremendously. I'm ready, though. I keep a very watchful eye on the Recent Changes page, so I'll be awaiting vandalizes. It's a shame they exist. It's childish to want to vandalize any page, especially ones on such an incredible wiki.
Hey, this is the official wiki of the True Blood series. Far as I'm concerned. And I'm sure not going to let it get taken over by spam and vandalism. I check the Recent Changes when I first wake up, several times throughout the day, and before I go to bed. I love this wiki, just as much as I love the series itself.
...And as we go into 2015, I'm looking forward to many more years to come. One of these days the wiki will be truly "complete", and it's all because of the dedicated fans here. You guys are the greatest, and I'm glad to play such a major role here. Here's to the official wiki, and to 2015!
Merry Christmas True Blood wiki!
What kind of True Blood merchandise did you receive for Christmas this year?