Jurassic World: Dominion Dominates Fandom Wikis - The Loop
Play Sound
"Timebomb" is the eighth episode of Season 2 of the HBO original series True Blood, and the series' twentieth episode overall.
Summary
Having saved Sookie, Godric orders Eric to leave the premises with her - and to do so peacefully. Unfortunately, Steve Newlin and his followers are waiting for them in the Church and he isn't too choosy as to which vampire they use for their sunrise ceremony. Godric tries a different approach and hopes to make peace with Steve, who adamantly opposes any such possibility. Safely returned to their lair, Godric's peaceful approach and lack of desire for revenge doesn't sit well with some of his followers. Steve also has a surprise for him. In Bon Temps, Eggs tells Tara that he's blacked out again and they try to piece together where he's been. Maryann prepares a special dish for them. Sam Merlotte finds himself under arrest when Daphne's body is found in the restaurant freezer. Having finally slept together, Jessica and Hoyt discover a disadvantage to Jessica being a vampire.
Synopsis
"Trust me."
― Eric Northman, to Sookie Stackhouse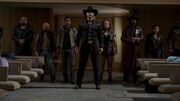 Gabe pleads for his life before Godric breaks his neck. Eric arrives immediately after and an alarm sounds through the Fellowship of the Sun compound. Godric orders Eric to save himself and Sookie while avoiding human casualties. Jason has an exchange with Sarah after being shot with a paint gun, twice. Sarah tells Jason that they're holding Sookie and insults her by calling her a liar and a fangbanger. Jason flies into a rage and disarms Sarah, then drives back to the church compound to help Sookie.
Back at the church, Eric attempts an act to get himself and Sookie past the gate guards, but their escape is blocked by a lynch mob headed by Pastor Steve. Eric decides to give himself up to Steve in hopes of saving Sookie and Godric.
At the Hotel Carmilla while Lorena is feeding on telepath Barry, Bill uses the opportunity to incapacitate her and escape. He busts in on Jessica and Hoyt mid-coitus and orders them back to Bon Temps. Eggs arrives at Merlotte's in distress looking for Tara because he's experienced memory loss again. Jason arrives back at the church compound and lies his way in.
Sam is woken in his car by a call from Merlotte's; heading over there he finds Daphne dead with her heart torn out. Before he can act, the police and Sheriff Dearborne arrive at Merlotte's. At Sookie's house, Maryann prepares a meal with Daphne's heart.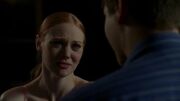 Eric, bound by silver, lays on an altar, but Bill and Jason appear to save the day. Steve attempts to take Sookie hostage, but Jason shoots the weapon out of his hand. The Dallas vampires appear soon after and prepare to feed on the Light of Day Institute mob, but Godric stops the bloodshed. He pardons the humans, to the disappointment of his vampires. Jason reveals to Steve that he had sex with Sarah, and knocks him down with a hit. The Sheriff and his deputy question Sam back at Merlotte's; he fails to convince them of his innocence, even with Andy corroborating his story.
At Sookie's house, Maryann serves what she calls Hunter Souffle, which she prepared with Daphne's heart, to Tara and Eggs who are delighted by the taste and begin scarfing it down. At Godric's nest, Godric thanks Jason while Eric pardons his previous use of V. Meanwhile, Sookie is trying to find out why Bill did not come to her rescue when he first knew she was in trouble.
Back in Bon Temps, Jessica and Hoyt make love again, but they soon realize that Jessica's hymen has healed which means she will remain a virgin forever. Back at the Dallas nest, Bill demands Eric leave Sookie alone from now on, and the human Hugo, Isabel's lover is presented as the traitor to Godric. Finding that Isabel still loves Hugo, Godric spares his life and exiles him from Dallas. Sam sits in jail and finds out that half the town has been arrested for various types of indecent behavior.
In Dallas, Jason takes the opportunity to apologize to Bill for his previous bigotry towards him. Privately, Godric shares his dismay with Eric at the cruel, brutish character of the vampire race and wishes for a world that humans and vampires might share equally. Back at Sookie's house, after gorging themselves on Maryann's souffle, Eggs and Tara suddenly turn violent, first smacking then hitting each other harder and harder until they fly into an animal passion. Maryann watches on with glee.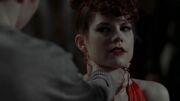 In Dallas, an unidentified figure approaches Godric's nest. Lorena also appears at the nest and harasses Sookie who discovers it was Lorena that kept Bill from saving her. Sookie also finds out that Lorena was Bill's maker. Lorena turns violent, but Godric stops her from harming Sookie. He makes a speech in which he uses Lorena as an example of the kind of vampire who has no future in this new world. Godric orders Bill to take Lorena from the nest. Outside, Lorena pleads her love to Bill who rejects her.
At the party, the mysterious intruder is revealed to be Luke who calls for the attention of those gathered and opens his jacket to reveal a suicide bomb. He pushes the detonator.
Trailer
Notes
Accolades
The Hunter Souffle was nominated for the Scream Award for Most Memorable Mutilation.
Allusions
Sarah Newlin to Jason Stackhouse: "You're worse than Judas." Judas Iscariot was one of Jesus' original Twelve Apostles who is best known for his betrayal of Jesus to the Roman soldiers. Judas was given 30 silver pieces to show the Roman soldiers who Jesus was so they could arrest him.
Bloopers and Continuity Errors
There are no bloopers that occur in this episode.
Continuity
Vampire Mythology - In this episode, we find out that older vampires may require very little blood to survive.
Flashbacks
There are no flashbacks that occur in this episode.
Miscredits
There are no miscredits that occur in this episode.
Music
"Dilruba (Junkie XL Remix)" - Niyaz

"The Longing" - Karsh Kale & Lalitya Munshaw
"Rafiki (Rise Ashen Future-Tribal Mix)" - Bob Holroyd

"Hejran" - Niyaz

"Timebomb" - Beck
Production
There are no production notes available for this episode.
Title
The title of this episode may refer to the general feeling that the chaos caused by Maryann in Bon Temps is verging on going out of control, as well as the literal bomb that Luke has strapped to himself as he enters into the vampire gathering.
Trivia
Based on what happened to Jessica, we can surmise that whatever state a person's body is in when they are turned is the state that their body will return to whenever they are injured. However, this does not apply to all injuries received before becoming a vampire, as the consumption of V during this process usually heals these.
Memorable Quotes
Eric Northman: "I don't like being touched."
Godric:
(to Eric) "Let's be honest: we are frightening. After thousands of years, we haven't evolved. We've only grown more brutal, more predatory. I don't see the dangers of treating humans as equals."
"Good people, who of you is willing to die for this man's madness?"
(sensing Eric) "I'm here my child. Down here."
Jason Stackhouse:
"Honesty my ass. White-suited mother-f***er!!!"
"I reckon I've already been to Heaven...and it was inside your wife."
Lorena Krasiki: "Did you know your boyfriend hit me over the head with a 52 inch plasma television earlier tonight? Everyone says they're so thin and light, but let me tell you, when wielded properly, they're quite a weapon."
Memorable Dialogue
Sookie Stackhouse: "He's your maker, isn't he?"
Eric Northman: "Don't use words you don't understand."
Sookie Stackhouse: "You have a lot of love for him."
Eric Northman: "Don't use words I don't understand."  
Cast
Starring

Recurring

Co-starring

Guest starring

Special guest starring

Uncredited
Gallery
Images
Video
Trading Cards
Episode B1
Episode Ratings
Episode #
Episode Title
Viewers (in millions)
#2.08 (20)
"

Timebomb

"
4.43