"Spellbound" is the eighth episode of Season 4 of the HBO original series True Blood, and the series' forty-fourth episode overall.
Summary
As Bill and Marnie brace for a dangerous midnight faceoff, Sookie and Eric pledge their allegiance to the King. Jason is torn between friendship and passion, and Jessica is spurned from two homes; Lafayette becomes the pawn of a tormented spirit; Tommy takes a walk in someone else's shoes; Sam contends with yet another adversary in Marcus, Luna's ex and the leader of Alcide's new pack.
Synopsis
"We will be one."
― Eric Northman to Sookie Stackhouse

Jessica breaks free from the silver chains. She escapes her cell beneath Bill's house by luring Bucky Featherstone close, killing him and taking his keys. She rushes upstairs under the influence of Antonia's spell. She opens the front door and is about to meet the sun when Jason jumps in front of her, saving her life.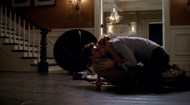 Jessica, still under the spell, attacks Jason and almost bites him. She snaps out of it and retracts her fangs. She tells Jason that he saved her life and the two begin to kiss. Bill screams for Jessica from the cells and cries at the thought of her death. Jason carries Jessica back to her cell and Bill is relieved to see her alive. Jessica's face is burned and she is upset when she discovers she killed Bucky. Bill calms Jessica then suggests she get back into the cell because Antonia may have only temporarily dropped the spell. Jason binds Jessica in silver. Bill comments how he underestimated her strength. Bill tells Jason that they are indebted to him. While ready to leave, Jason sees the body on the floor and Bill tells him that he cannot afford to have it reported in any way.
Marcus (the Packmaster of Alcide and Debbie's new pack) wants nothing to do with the vampire-witch war. He calls a meeting and forbids his followers to get involved.
Sam tries to convince Luna to forgive him. His brother Tommy used his skinwalker ability to pose as Sam and sleep with Luna. Sam tells her that he has disowned Tommy. He says that he can forgive Tommy for killing their parents but not for what he did to Luna.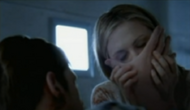 At Sookie's house, Eric wants her to remove the silver binding him. She is frightened of pulling his skin off with the chains. He reassures her that the silver hurts more on than taking it off. Eric assures her that he will heal quickly. When the silver is removed he does not heal and Sookie says that he needs to feed. She offers him her blood. She tells him that she is trusting him but that he has to promise not to go overboard. He tells her that if he goes too far she should silver him. Eric promises never to betray her. When Eric is finished he bites his own hand and offers it to her. She protests that she is not injured. He tells her "We will be one!" Sookie drinks his blood. Sookie and Eric then go into the shower and share a kiss while the former gropes him afterwards she turns on the shower heads but realizes it doesn't show any water the two would eventually find a bed in which Sookie wonders why it is there Eric later asks if they can make love in it the former imagines that they may never stop as the latter asks why they would they then go over to it.
Jessica dreams about breaking up with Hoyt. She comes to his house and tells him that she wants to move out. Hoyt says that he cannot live without her. She tells him that she has a hunger and being with him is not enough. She says that she does not want to hurt him. He does not believe her and breaks down crying. He blocks the door and won't let her go. He tells her that he cannot live without her. Jessica takes Hoyt by the head and slams it into the wall and screams "Then die!" Jessica awakens from the violent dream.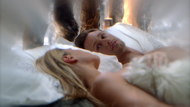 Eric and Sookie make love on the bed. Having shared their blood they imagine themselves in a large bed with snow falling around them and covering them are white and grey fur respectively. They are in total bliss.
At Moon Goddess Emporium Marnie/Antonia is frustrated that her spell killed only a single vampire. She wants to exterminate all vampires. Tara wants to see the vampires gone as well. Bill calls for Antonia and asks for a meeting to resolve the situation. They arrange to liaise inside the Bon Temps Cemetery at midnight.
At the werewolves pack gathering, Debbie tells Alcide how happy she is to be part of the pack. Marcus tells Alcide that he is happy to see him. Alcide tells Marcus that he supports what he said about staying out of vampire business.
At Merlotte's Arlene screams at Terry because he left Mikey unwatched in a playpen behind him while cooking. While they are arguing Mavis comes in and sings to the baby. Lafayette sees her while the others do not.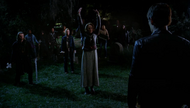 Jessica finally comes home to Hoyt. Hoyt asks her what is wrong and she tells him she really loves him but she thinks they made a mistake moving in together; they moved too fast and should spend some time apart. She tells him that she thinks being a vampire makes her unsuitable for a monogamous relationship. He gets really upset and tells her that he deserves someone better; someone who can have children and will not be a virgin her whole life. Jessica starts crying and he tells her to get out. He rescinds his invitation to her and as she is cast out of the house he says that maybe God does hate fangs.
Eric and Sookie are still naked in her bed. Sookie is telling Eric that they have an obligation to fight for King Bill. She tells him that she will not leave Bill to die. Eric tells Sookie he wants to be with her forever and she tells him, "There is no such thing as forever."
Marcus tells Alcide that he is an alpha male and could move up in the pack. Alcide says that he is not political. Debbie is proud as punch and tries to convince Alcide to stay away from Sookie. She makes him promise to keep his distance from her.
Lafayette sees Mavis in his dreams. His recently discovered powers allows him to tap into her past. She was having an affair with a white married man. She got pregnant and he took the baby because he feared that its mixed race would reveal their relationship. Mavis possesses Lafayette's body.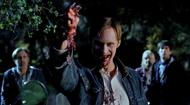 Eric and Sookie take a break from their marathon sex long enough to tell Bill that they're prepared to fight for him. Eric tells Bill that Sookie has a warrior's heart. Sookie tells Bill that she can help, citing her powers. Bill worries that she could die and she tells him that if she can save the people she loves she is willing to take the risk.
Marcus is frustrated by Sam's relationship with his ex-wife Luna and is protective of his daughter Emma. Marcus shows up at Luna's house to tuck his daughter in. He is angry when he finds Sam there. Marcus tells Sam that he pissed on the wrong boots and leaves.
Jessica goes to Jason's house to say that she has broken up with Hoyt. Jason is upset because Hoyt has been his friend since the first grade. He rescinds his invitation to Jessica and she flies out of his home.
Mavis uses her possession of Lafayette to got to Andy's house. She walks in on a sleeping Andy and steals his gun. Next she goes to Arlene's house and takes Mikey and the creepy doll.
The witches and vampires face off in the graveyard. The situation escalates as Marnie/Antonia reveals that she's not alone and has brought her whole coven. Bill is joined not only by Eric, Sookie, and Pam, but also his human commandos as well as a number of vampires.
Sookie senses Marnie/Antonia casting a spell in her mind and warns Bill. Eric reacts by killing Beverleen, shocking both factions. Antonia counters by chanting a spell which causes thick fog to flood the graveyard. Amongst the haze the battle begins. During the fighting, Pam catches Tara and is about to kill her. Bill intervenes, commanding Pam not to touch Tara now and forever.
Someone tries to stake Sookie and she screams at them that she is not a vampire. A light bursts from her hand and her powers fling the attacker away from her. Sookie is shot and falls to the ground. Bill is incapacitated with silver by Holly and Roy. Sookie lies bleeding on the ground. Alcide picks her up and carries her away. Debbie follows them in her white wolf form.
Eric confronts Marnie/Antonia with his fangs bared. She is not afraid and puts a spell on him. He falls to his knees, suddenly confused.
Trailer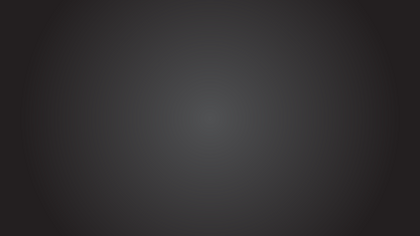 Notes
Accolades
This episode currently hasn't received any awards.
Allusions
This episode does not contain any allusions.
Bloopers and Continuity Errors
There are no bloopers that occur in this episode.
Continuity
There are no continuity notes for this episode.
Flashbacks
Lafayette sees a flashback to Mavis' past, when she confronted a married white man who she had an affair with; she wanted to see her baby, but she couldn't, because the man had already killed the baby to cover up his affair.
Miscredits
There are no miscredits that occur in this episode.
Music
The Hollow Trees - Wacky's Tackle
Camp Burnette - Crazy Like Me
Black Rebel Motorcycle Club - Shuffle Your Feet
Slim Harpo - Te-Ni-Nee-Ni-Nu
Jace Everett - No Place To Hide
The Boswell Sisters - Heebie Jeebies
Siouxsie & the Banshees - Spellbound
Production
There are no production notes available for this episode.
Title
There are no notes on the title based on this episode.
Trivia
There is currently no trivia associated with this episode.
Memorable Quotes
Andy Bellefleur: "Jesus, tits, and God America Jason. What the fuck is happening to me?!"
Eric Northman:
"I just want to be with you. Only you. Forever."
"She has a warriors heart."
Kevin Ellis: "Bet it's gonna rain tonight... I always feel it where that panther tore my throat open."
Marcus Bozeman:
"You just pissed on the wrong boots my friend."
"...Those witches are fucking idiots for getting mixed up with vampire shit. Because those dead fuckers are hardcore. They will kill you and not blink an eye..."
Pamela Swynford de Beaufort: "This is so fucking lame!"
Memorable Dialogue
Sookie Stackhouse: "Why is there a bed?" Eric Northman: "Can we make love in it?" Sookie Stackhouse: "Like we' might never stop." Eric Northman: "Why would we ever want to?"
Cast
Starring

Recurring

Special guest starring

Guest starring

Co-starring

Uncredited
Gallery
Images
Video
Trading Cards
Episode B1
Episode Ratings
Episode #
Episode Title
Viewers (in millions)
#4.08 (45)
"

Spellbound

"
5.30
Community content is available under
CC-BY-SA
unless otherwise noted.