House of the Dragon Trailer - The Loop
Play Sound
"She's Not There" is the first episode of Season 4 of the HBO original series True Blood, and the series' thirty-seventh episode in overall.
Summary
Sookie journeys away from Bon Temps, Eric and Bill try to win back the human public, Jason learns that no good deed goes unpunished, Tara finds refuge in close quarters, Sam bonds with his own, Hoyt and Jessica debate the dinner menu, Jesus urges Lafayette to join a coven, and Terry tries to alleviate Arlene's fears about the baby.
Synopsis
"I have a fairy godmother?
Okay, if your job is to look after me, can I just say you suck?"
― Sookie Stackhouse, to Claudine Crane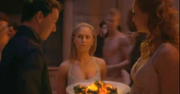 Sookie and Claudine arrive in the faery realm, which looks like a whimsical, mythological world, complete with glowing magical light-fruit called Lumiere. Claudine introduces Sookie to other faeries. Sookie recognizes Barry and discovers that her grandfather Earl Stackhouse is there. He claims that he's only been there a few hours, but has actually been missing for the past 20 years.
Sookie refuses to eat the Lumiere fruit and notices that something is off about the perfect place. When she attempts to communicate telepathically with her grandfather, the other faeries all hear her. Queen Mab commands her to eat the Lumiere fruit. When Sookie refuses, Mab tries to force-feed it to her. The Queen blames Sookie for letting Bill taste fairy blood and declares that they are now harvesting humans. Sookie somehow deflects Queen Mab with her light powers revealing the glowing realm into a barren wasteland and the faeries as ugly creatures.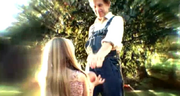 Sookie and her grandfather flee. They are aided by another faery who tells them that there are some who don't agree with the Crown. They escape through a portal and land in the Bon Temps Cemetery. Sookie's Grandfather rapidly ages and turns to dust in front of her; an unexpected effect of the Lumiere fruit.
Sookie returns to her home to find a group of contractors remodeling it. She walks in, confused, and they threaten to call the police. Sookie is surprised that Jason is the responding officer. He is just as surprised to see her and explains that she has been gone for over 12 months; those ten minutes in fairyland just cost her a year of her life. Jason explains that people thought that Bill had killed her. Not knowing that she was still alive, Jason—now a full fledged cop—sold her house. Sheriff Andy is more abrasive than usual because he's hooked on V and experiencing withdrawal.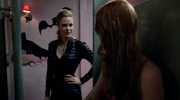 Sookie tells Jason that she was in a place where time moves differently; to prove it to him, she gives him their grandfather's watch. At that moment, the sun starts to set and Bill comes to the house, in joyful disbelief that Sookie is alive. Eric arrives moments later, telling Sookie that he alone knew that she was alive and that he never gave up on her. Bill and Eric bicker and Bill commands Eric to leave, which he does, reluctantly. To save Sookie from questioning, Bill tells everyone that she was on "vampire business" and she agrees to go along with the lie.
Lafayette is being pushed to join a witch coven by Jesus. Jesus introduces Lafayette to Marnie Stonebrook, the head of the coven, who channels Eddie, Lafayette's former vampire lover and supplier of V.
Arlene has had her baby, Mikey Bellefleur, and is terrified of him because his father was the serial killer Rene Lenier. Arlene comes home to find the baby ripping the heads off Barbie dolls and freaks out. Terry, who loves the boy like his own, tries to comfort her.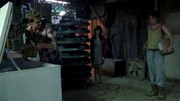 Tara has become a cage fighter in New Orleans and only keeps in touch with those she left behind by postcard. She is also in a relationship with Naomi, another fighter.
Sam is taking anger management with a group of Shapeshifters to get over shooting Tommy. Tommy is alive, but has a limp from his injuries. Tommy visits Merlotte's with Mrs. Fortenberry looking cleaned up.
Hoyt and Jessica are living together, but facing some domestic troubles. They fight over human food vs blood and get into an argument over eggs. Jessica also has urges that she can't control. At Fangtasia, she lusts after a fangbanger and is visibly shaken over her lack of self-control. Pam gives her some unsolicited advice about the difficulties of suppressing her "hunter" nature but Jessica insists that she loves Hoyt.
Jason is still caring for the werepanther tribe in Hotshot. He's sticking to his responsibilities and they seem to care for him. However, while making a food delivery, they trap him in a freezer.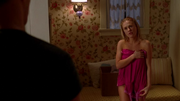 Nan Flanagan and the American Vampire League are trying desperately to remedy the damage done to Vampires' public image by Russell Edgington's murder of a TBBN newscaster on live television. Nan is determined to win back the public one smile at a time. Eric and Bill assist her in making public announcements. Bill speaks at a ribbon cutting ceremony at the new Senior Citizens Center in Bon Temps. He thanks Mayor Norris and the Chamber of Commerce, which is led by Portia Bellefleur.
Bill has become the new Vampire King of Louisiana!
Eric reveals that he is the one who bought Sookie's house; and therefore she is "his." 
Trailer
Notes
Accolades
This episode currently hasn't received any awards.
Allusions
This episode does not contain any allusions.
Bloopers and Continuity Errors
There are no bloopers that occur in this episode.
Continuity
After three seasons in a starring role as Bud Dearborne, William Sanderson is removed from the opening credits of this episode. Denis O'Hare also departs the main cast after appearing in the opening credits last season.
Lauren Bowles, Janina Gavankar, Fiona Shaw and Jessica Tuck all join the main cast as Holly Cleary, Luna Garza, Marnie Stonebrook and Nan Flanagan respectively. Bowles previously appeared as a recurring character in the third season and Tuck appeared in a recurring role in the previous three seasons.
The fairies' true faces and motivations are revealed to the viewer.
When Sookie returns to Bon Temps, she discovers twelve months and two weeks has passed since her disappearance in the closing moments of the third season finale. Because of the year time jump, the lives of the remaining characters have changed significantly since then and marks the longest passage of time between episodes.
After brief appearances last year, witches are formally introduced to the viewer.
Portia Bellefleur, Andy's sister and Terry's first cousin, is finally introduced after being referenced in the first and second seasons.
Jessica reveals to the audience that Hoyt's mother, Maxine Fortenberry, attempted to shoot her with a wooden bullet but failed. Maxine was seen in the gun store during the season three finale.
Flashbacks
There are no flashbacks that occur in this episode.
Miscredits
There are no miscredits that occur in this episode.
Music
''Real Wild Child" - Joan Jett & The Blackhearts
"What's On Your Mind - Soda Jerk
"Better Get On" - Danny Wilde
"Calling the Shots" - Mississippi Mike Wolf
"What You Do To Me" - 'Blakroc (Featuring Billy Danze, Jim Jones, Nicole Wray)'
"Dues" - El Camino
"Xcess" (Remixed by Schneider of Rammstein) - Slick Idiot
"She's Not There" - Neko Case & Nick Cave
Production
There are no production notes available for this episode.
Title
There are no notes on the title based on this episode.
Trivia
There is currently no trivia associated with this episode.
Memorable Quotes
Eric Northman: Sookie, you are mine!
Pamela Swynford de Beaufort:
"The restrooms are for humans. Do I need to explain why?"
"That tree with the plaid shirt has a name?"
Andy Bellefleur: "For thirteen straight months I've had that open case on my books. If it weren't for you, this year's Louisiana Safe Streets plaque would be on my wall, and not fucking Webster Parish!"
Memorable Dialogue
Cast
Starring

Recurring

Co-starring

Guest starring

Special guest starring

Uncredited
Gallery
Images
Video
Trading Cards
Episode B1
Episode Ratings
Episode #
Episode Title
Viewers (in millions)
#4.01 (37)
"

She's Not There

"
5.42