Spider-Man: No Way Home Trailer Dropped - The Loop
Play Sound
"Shake and Fingerpop" is the fourth episode of Season 2 of the HBO original series True Blood, and the series' sixteenth episode overall.
Summary
[
]
As per her deal with Eric, Sookie and Bill travel to Dallas to help find the missing head of the local vampire community. They take Jessica along but on arrival, the driver meeting them attempts to abduct Sookie. Maryann throws a party for Tara who has now moved into Sookie's house. A lot of people show up and once again she weaves her magic, revealing something interesting about herself in the process. Sam isn't sure starting a relationship with Daphne is a good idea but she tells him she knows his secret. Lafayette is still recovering from his wounds when Eric makes him a proposition. Jason is still making an impression at Church camp and is asked to move in with Sarah and Steve Newlin.
Synopsis
[
]
"I gave you a very generous gift.
...The gift of not killing you."
― Eric Northman, to Lafayette Reynolds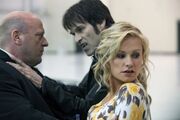 Bill throws Hoyt out of his house, much to Jessica's dismay. She storms off and Sookie suggests that it would be a good idea for Jessica to accompany them to Dallas. Bill reluctantly agrees. Tara decides to take up Sookie's offer to move into Sookie's house and, although Maryann appears supportive and happy for her, she is secretly not pleased. Jason becomes the victim of a cruel practical joke orchestrated by the increasingly jealous Luke at the Light of Day Institute.
Jason then winds up having the last laugh when he is invited to move out of the dorms and stay with the Newlins in their lavish mansion. While there, the attraction between Sarah and Jason becomes more intense and Steve offers him a position in the Soldiers of the Sun – Steve's "elite spiritual army." It is revealed that Miss Jeanette, the woman found in Andy 's car, was murdered by the same creature that attacked Sookie.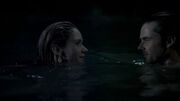 After leaving her friendship with Sam on shaky turf, Sookie arrives in Dallas with Bill and Jessica. They fly using Anubis Air Airlines. A limousine driver, Leon, attempts to abduct her, but Bill manages to prevent the kidnapping. After glamouring Leon, Bill learns that he was acting on orders from the Fellowship of the Sun, though he does not know who specifically hired him.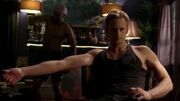 Meanwhile Lafayette, still shaken and injured from his harrowing ordeal in the Fangtasia basement, is paid a visit by Eric who offers Lafayette some of his blood to heal.
Although he is suspicious that Eric simply wants to be able to keep track of him, Lafayette is compelled to take Eric's blood to heal an infection developing in his wounds. Sookie, Bill and Jessica arrive at the lavish Hotel Carmilla, a hotel that caters specifically to vampires.
Back in Bon Temps, Tara is spending her birthday alone until Maryann shows up with Eggs to throw her a surprise party and soon things are in full swing. Sam shows up with a gift to Tara from her mother, Lettie Mae and connects with Daphne who reveals to Sam that she "knows what he is". Maryann throws Lettie Mae's gift for Tara away. As the party grows more and more wild, Maryann moves off on her own in the forest and performs an incantation which suddenly causes the winds to stir up and her body to vibrate strangely.
This seems to somehow fill the entire party with an intense sexual energy, just like at her previous party. Maryann's ritual culminates with her arms held deep in soil and then by transforming them into the same hideous clawed talons seen on the bull-headed beast, proving she was the one that attacked Sookie. At the same time Tara and Eggs have passionate sex. At the Hotel Carmilla, Bill and Eric meet and discuss the missing vampire sheriff Godric. Eric is concerned that if humans can capture a vampire as old and as powerful as Godric, then no one is truly safe.
Sookie is stunned when she encounters a bellhop named Barry Horowitz who is also able to read minds.
Trailer
[
]
Notes
[
]
Accolades
[
]
This episode currently hasn't received any awards.
Allusions
[
]
When checking into Hotel Carmilla, Bill is unable to describe his relationship with Jessica; so Sookie suggests calling Jessica his ward--"Like Dick Grayson." This is an allusion to the description of Dick Grayson (Robin) to billionaire Bruce Wayne (Batman).
Anubis Air Airlines: This is a reference to Anubis, the Egyptian god associated with mummification and the afterlife. Anubis was also believed to protect the dead and guide them to the afterlife, so it is fitting that an airline that caters to the needs of vampires would take the name of Anubis.
Bloopers and Continuity Errors
[
]
Near the beginning Jason's shirt has the third button apparently undone. His shirt is then magically buttoned back up as the scene continues.
Continuity
[
]
There are no continuity notes for this episode.
Flashbacks
[
]
There are no flashbacks that occur in this episode.
Miscredits
[
]
There are no miscredits that occur in this episode.
Music
[
]
"Beni Beni (Acoustic)" - Niyaz
"Wrong Path" - 5 Alarm
"Walkin' in the Shadow of the Blues"- Little Charlie & the Nightcats
"Rhythm Bound" - Steve Byers
"Louisiana Hot Sauce" - Sammy Kershaw
"Nowhere to Go" - Black Toast Music
"Shake and Fingerpop" - Junior Walker and the All Stars
"The Duel With The Skeleton" - Bernard Herrmann
"Dig" - Headbone ft. The Tense Young Man
"Finale" - Bernard Herrmann
"The Forgotten People" - Thievery Corporation
"House Party" - Nathan Barr
"Watch My Mouth" - Cazwell
Production
[
]
There are no production notes available for this episode.
Title
[
]
Apart from being an allusion to the song "Shake and Fingerpop" by Jr. Walker The All Stars the title and the song of the episode have a strong sexual meaning on Jason's attraction to Sarah and what really happens with Maryann's party at Sookie's house.
Trivia
[
]
There is currently no trivia associated with this episode.
Memorable Quotes
[
]
Jessica Hamby: "Is it my fault my fangs come out when I get turned on?"
Maryann Forrester: (to Tara) "Go, flourish and don't ever say 'no' to yourself."
Sookie Stackhouse: "I've always loved these things. They're like booze for dolls!"
Bill Compton: (to Hoyt) "Are you gonna leave or am I gonna have to throw you out?! Through a window, that is closed!"
Memorable Dialogue
[
]
Eric Northman: "I hope you will enjoy your blood substitute which is costing me $45."
Bill Compton: "Oh, I have no intention on drinking it. I just want you to pay for it."
Eric Northman: "Oh, you're so mature."
Cast
[
]
Starring

[

]

Recurring

[

]

Guest starring

[

]

Special guest starring

[

]

Co-starring

[

]

Dale Wade Davis

as

Succubus victim

Dean Norris as Leon

Preston Jones

as

Dirk

Carson Aune

as

Travis

Ailsa Marshall

as

Desk clerk

Jennifer Hamilton

as

Dancer #1

Ryan Novak

as

Dancer #2

Uncredited

[

]

Greg Raffelson

as

Champagne guy
Gallery
[
]
Images
[
]
Video
[
]
Trading Cards
[
]
Episode B1
[
]
Episode Ratings
[
]
Episode #
Episode Title
Viewers (in millions)
#2.04 (16)
"

Shake and Fingerpop

"
3.90