Powers
All human abilities
Possible magic
Cause of death
{{{Cause of death}}}
[[:Category:{{{Images}}}|Images]]
Rocky Cleary is Wiccan Holly Cleary's oldest son on the HBO original series True Blood. Played by American co-starring child actor Aaron Christian Howles, Rocky makes his debut on the episode "Turn! Turn! Turn!", at the beginning of the series' fifth season. Playing a recurring role through the series' fifth, sixth, and seventh seasons, Rocky was last seen on the series' finale episode, "Thank You", in the series' seventh, and final, season.
Rocky and his brother Wade arrive home from a hunting trip with their father, when they find their mother Holly in bed with Andy Bellefleur. Rocky yells at their mother for sleeping with Andy on his couch. ("Turn! Turn! Turn!")
At Merlotte's, Holly gives Andy Bellefleur breakfast and tells him she has another surprise: an apology from her two sons. Wade apologizes for putting the nude picture of Andy on Facebook, while Rocky is harsh and unapologetic. Andy tells them that he will treat Holly right, and they share a handshake. ("Sunset")
Rocky and his brother are introduced to Adilyn by their mother.
Rocky and Wade, were seen at the wake when Bill walks in. They are seen backing up the way into the dining room. ("In the Evening")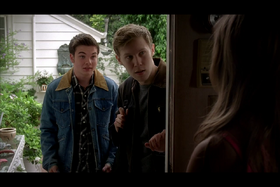 Adilyn is sitting in the Bellefleur house miserable and upset, when Holly's two sons Rocky and Wade come with a fifth of whiskey, offering to take Adilyn's mind off her terrible day. Adilyn decides to come along with them once shown alcohol.
At the Bon Temps Cemetery, Rocky sits on a stone half drunk while Adilyn and Wade make out on the grass. Eric comes and glamours the brothers to not remember seeing him or Adilyn today before sending them away. ("Dead Meat")
Rocky is seen in the 2015 Thanksgiving Dinner scene. ("Thank You")
Season five appearances
"

Turn! Turn! Turn!

"
"Authority Always Wins"
"Whatever I Am, You Made Me"
"We'll Meet Again"
"Let's Boot and Rally"
"Hopeless"
"In the Beginning"
"Somebody That I Used to Know"
"Everybody Wants to Rule the World"
"Gone, Gone, Gone"
"

Sunset

"
"Save Yourself"
Season six appearances
"Who Are You, Really?"
"The Sun"
"You're No Good"
"At Last"
"F**k the Pain Away"
"Don't You Feel Me"
"

In the Evening

"
"

Dead Meat

"
"

Life Matters

"
"Radioactive"
Community content is available under
CC-BY-SA
unless otherwise noted.