Wiki Targeted (Entertainment)
Play Sound
"Nothing But The Blood" is the first episode of Season 2 of the HBO original series True Blood, and the series' thirteenth episode overall.
Summary
[
]
The staff at Merlotte's are on edge when they find the body of a woman - who turns out to be Tara's fake exorcist - in a parked car with her heart torn out. Now that Bill has turned Jessica Hamby into a vampire, she is living with him and he is trying to teach her their own unique code of ethics. Sookie isn't too sure she likes the fact that Bill has this young, attractive woman living him but their own relationship and emotions are too strong to set aside. Tara is still living in Maryann's luxurious home and she continues flirting with Eggs who is also living there. Maryann has a few choice words for Tara's mother when they meet. It also turns out that Sam Merlotte and Maryann have quite a history together and Sam tries to make amends. Maryann has her own ideas however. Jason Stackhouse, who found religion while temporarily in jail, now considers going off to Texas for a Church-run leadership seminar.
Synopsis
[
]
"When you love someone, you gotta love it all.
Otherwise it ain't love."
― Jason Stackhouse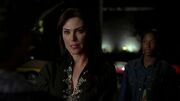 The shocking and brutal murder of Miss Jeanette – Tara's fake exorcist – has the entire town of Bon Temps reeling, and Tara is reluctant to tell the police she knew the deceased for fear that her ex-alcoholic mother, Lettie Mae will find out about Miss Jeanette's deception and have a relapse. Tara eventually comes forward and is interrogated. Her worst fears are realized when her mother, Lettie Mae, shows up at the police station and is told everything. Tara is eventually released and Maryann has some harsh words for Lettie Mae when she arrives to give Tara a ride.
While going through Gran's belongings, Sookie is visited by Sid Matt Lancaster who delivers news about Uncle Bartlett's death.
Meanwhile, Lafayette has been kidnapped and is being held with others, including Royce, in some kind of bunker. Royce was one of the rednecks who earlier burned three vampires to death. Sookie and Bill's relationship is put to the test with Bill's newly made vampire charge Jessica's impatient ways, even when Sookie attempts to bond with her.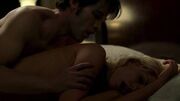 Jason impresses Steve and Sarah Newlin, the leaders of the Fellowship of the Sun anti-vampire church, at a luncheon and is offered a place at a leadership retreat where he will learn to serve God. Sam is troubled by the presence of Maryann and reminisces about their sexual encounter when he was 17 and stole $100,000 from her. He also takes on another young waitress, Daphne Landry. Tara becomes closer with Eggs.
Sookie and Bill are put on even rockier ground when she discovers that he murdered her sexually abusive Uncle Bartlett. He tells her that he did it because he loves her too much to let him get away with what he did to her when she was young. Sookie forgives him and the two passionately make love. It is revealed that Eric is the one keeping Lafayette captive. The episode ends with Royce trying to escape. Eric literally rips him apart, brutally murdering him, spraying Lafayette with blood.
Trailer
[
]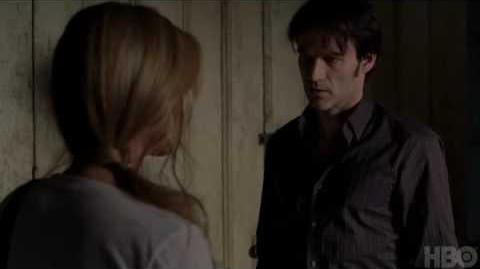 Notes
[
]
Accolades
[
]
This episode currently hasn't received any awards.
Allusions
[
]
"Nothing But the Blood" is a play on the line " . . . nothing but the truth . . ." which can be heard in court cases when a person is sworn in to testify.
In a similar manner in which Maryann's nature was implied in the final episode of Season 1 with Rene singing She is a devil in disguise an allusion exists in the scene where Lettie Mae tells Tara to watch out the demon and right after Maryann gets into the scene.
Bloopers and Continuity Errors
[
]
There are no bloopers that occur in this episode.
Continuity
[
]
There are no continuity notes for this episode.
Flashbacks
[
]
Miscredits
[
]
There are no miscredits that occur in this episode.
Music
[
]
"Addict Me" - The Local NYC (Surrender to Sundays promo)
"Butterfly By" - Extreme Music (Jason meets the Newlins)
"Hello Walls" - Faron Young (Sookie eats breakfast and misses Gran)
"Take Me Home" - Lisbeth Scott and Nathan Barr
"Lá Vem A Baiana" - Jussara Silveira (Tara and Eggs on the pool scene)
"Back To The Crossroads" - Todd Snider (Daphne meets Sam at the bar)
"It's All Good Lovin To Me"- Burnt Toast Music (Jason turns down Shawnelle at Merlotte's)
"Leave This All Behind"- Burnt Toast Music (Sookie apologies to an angry Sam)
"All Night Through" - The Shaker Sisters (Sookie talks to Tara)
"The Golden State"- John Doe with Kathleen Edwards (Eggs kisses Tara)
"Nothing But The Blood (of Jesus)" - Randy Travis (Sookie storms out of the bar to see Bill / end credits)
"The electronica/dance music playing in Fangtasia when Eric descends to the dungeon is an original composition by Nathan Barr, True Blood's composer"
Production
[
]
There are no production notes available for this episode.
Title
[
]
Trivia
[
]
Memorable Quotes
[
]
Eric Northman: "Shushing won't do you any good, sweetheart."
Maryann Forrester:
"Ms. Thornton... Maryann Forrester. I've heard all about you. What a rare opportunity this is. I've always wondered what it'd be like to gaze into the eyes of someone so devoid of human compassion. That she would abandon her own child when she needed you the most."
(to Lettie Mae) "It's always something else that gets all the blame or all the credit. Whether it's Jesus or Gin."
"What I can't believe is that your daughter manages to feel any shred of love for you at all. After you've beaten and neglected her since the moment she could feel, THAT'S extraordinary. She's a hell of a girl."
Sookie Stackhouse: "Hello? It's me. I'm gonna be a little late. Something real awful happened out here. I'll tell you all about it when I see you."
Memorable Dialogue
[
]
Bill Compton: "Your bedtime will be at 4 am and not a minute later."
Jessica Hamby: "Whatever."
Bill Compton: "And whilst you're under my roof, hunting is completely forbidden."
Jessica Hamby: "Like I'd know where to find people in this bumf*** town. Are we even in a town?"
Bill Compton: "We also recycle in this house. Tru Blood and other glass items go in the blue container. And paper products go in the white container."
Jessica Hamby: (Bill's cell phone rings) "Cool! Can I have one of those?"
Bill Compton: "NO!"
Jessica Hamby: "Well, who is she? Is she your girlfriend?"
Bill Compton: "YES!"
Jessica Hamby: "Is she a vampire?"
Bill Compton: "No."
Jessica Hamby: "Ooooo... well do I have to be nice to her?"
Bill Compton: "I'm gonna need you to go upstairs and get cleaned up, remove your make-up, and make yourself presentable. I will not have you looking like a slattern."
Jessica Hamby: "A what?"
Bill Compton: "Um, a lady of the evening."
Jessica Hamby: "AWESOME!"
Bill Compton: "Try the A negative."
Jessica Hamby:"Less like ass than the A positive, but more like ass than the B negative."
Bill Compton: "You have to keep up your strength. Two-thirds of new vampires never survive the 1st year."
Jessica Hamby: "Well, I can't help it that I don't like it! Eric let me feed on a guy with tattoos and nipple piercings."
Bill Compton: "I'M NOT ERIC!"
Jessica Hamby: "You're SOOOOO not Eric."
Bill Compton: "Do you need me? I can meet you at the bar."
Sookie Stackhouse: "I always need you, but you stay there. It will give me something to look forward to."
Bill Compton: "Jessica, I'm going to have a guest coming over shortly."
Jessica Hamby: "Can we eat her?"
Bill Compton: "You may not!"
Bill Compton: "Sookie. I can not and I will not lose you. For all the ways I have dismayed, offended or failed you.
I swear I will atone. But I´m not sorry. I refuse to apologize for what you have awake in me.
You are my miracle, Sookie. For the first time in 140 years, I felt something, That I thought was lost in me forever. I Love You. And for that I should never feel sorry."
Sookie Stackhouse: "God damn you, Bill Compton. I Love You."
Cast
[
]
Starring

[

]

Recurring

[

]

Guest starring

[

]

Special guest starring

[

]

Co-starring

[

]

Uncredited

[

]
Gallery
[
]
Images
[
]
Video
[
]
Trading Cards
[
]
Episode B1
[
]
Episode Ratings
[
]
Episode #
Episode Title
Viewers (in millions)
#2.01 (13)
"

Nothing but the Blood

"
3.70