Wiki Targeted (Entertainment)
Play Sound
"Never Let Me Go" is the fifth episode of Season 2 of the HBO original series True Blood, and the series' seventeenth episode overall.
Summary
[
]
Still in Dallas with Bill and Jessica, Sookie is intent on keeping her part of the bargain and try to find the missing Godric despite the strange behavior of his cohorts. Eric tells Bill his true reason for wanting to find Godric. Sookie tries to learn more from the bellhop who has telepathic powers. Back in Bon Temps, most are still recovering from the effects of Tara's birthday party. Sam learns that he and Daphne have more in common that he could ever have imagined. Maryann announces that she is moving into Sookie's house and when told that she can't, casts a spell on Tara to get her to change her mind. Over at the Light of Day Institute, Jason continues to impress with his leadership skills. Fed up with husband Steve's lack of attention and respect however, Sarah Newlin decides to spend a little private time with Jason.
Synopsis
[
]
"You are going to be so sorry when I get an eating disorder!"
― Jessica Hamby, to Bill Compton
(when Bill says she can only drink Tru Blood and not from humans)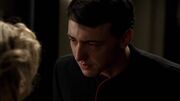 Tara's birthday party is still in full swing when Sam follows Daphne out into the woods where she reveals to him that she is a shapeshifter, like him. They begin getting intimate, but are interrupted by Terry Bellefleur and Arlene after which Daphne wanders off into the darkness. In Dallas, Sookie chases Barry, who tells her that if any of the Dallas vampires find out about his abilities, it would mean serious trouble for both of them. After Bill reprimands her for ordering a young man off of the Hotel Carmilla menu, Jessica calls Hoyt and the two share a late night conversation about comic books.
At the Light of Day Institute, Jason and the others are put through an intensive training course by Sarah Newlin and a very demanding drill instructor named Gabe. When Luke has trouble completing one of the exercises, Jason helps him out and is commended for being a "real soldier of God." Meanwhile Sookie tries to connect with Barry one more time and learns that he is ashamed of his abilities and cannot control his telepathy the way she can. Even though she offers to teach him, Barry tells her to leave him alone.
Maryann continues to stir up trouble in Bon Temps after trying to move into Sookie's house with Tara, who rebuffs her. She casts her spell upon the patrons of Merlotte's, turning them all against Tara and making her feel isolated and alone. Eventually, Tara invites Maryann to live at Sookie's house with her.
Trying to solve the mystery of Godric's disappearance, Sookie offers to infiltrate the Fellowship of the Sun by posing as a convert in order to see if they are the ones holding Godric. Bill disapproves of the plan and, after asking Eric why he is so invested in finding Godric, Eric reveals that centuries ago Godric saved him from death by making him into a vampire.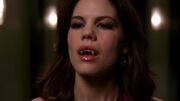 Steve shows Jason the seriousness of their mission in the form of a bunker full of weapons. After walking in on Steve and Sarah having a fight, Sarah "rewards" Jason for his hard work with a hand job in the bathtub. Lafayette is given his job back as Merlotte's cook. Later, Sam and Daphne have sex on a pool table in Merlotte's. Sookie is sad to learn that Barry has quit his job at the hotel.
Bill tries to comfort her, and, as they begin to make love, a woman appears in the hallway outside their room. It is revealed that the woman is Bill's maker, Lorena Krasiki.
Trailer
[
]
Notes
[
]
Accolades
[
]
Suzuki Ingerslev was nominated by the Art Directors Guild for Excellence in Production Design in TV for 2009.
Suzuki Ingerslev,

Cat Smith

&

Laura Richarz

were nominated for an Emmy Award for Outstanding Art Direction for a Single-Camera Series.
Allusions
[
]
In the scene where Maryann asks Tara to stay at Sookie's house and Tara denies a supposedly sad guitar music is heard, a strange thing that never happened with Maryann's scenes. When Maryann leaves the house that music played was actually Eggs playing a guitar telling the viewer in few words that the music was as fake (not put by the music supervisor on purpose) as Maryann's tears and reaction.
The same night when Tara returns at home, she sees Maryann and finally tells her to stay there. The music played in this scene is similar to Gran's theme but with an ominous and dark tone, cementing the notion that Maryann knew about Adele's existence and put a facade, dressing like her to convince Tara that she is a good person.
Bloopers and Continuity Errors
[
]
There are no bloopers that occur in this episode.
Continuity
[
]
There are no continuity notes for this episode.
Flashbacks
[
]
In this episode we learn how Eric became a vampire. Centuries ago he was injured while fighting in battle and a near-invisible entity killed two members of his clan who were protecting and comforting the dying Eric. The entity introduced himself as 'Death' and said that he was very impressed with Eric's fighting skills on the battlefield. The entity promised Eric companionship and immortality. This entity was the then 1,000 year old vampire, Godric.
Miscredits
[
]
There are no miscredits that occur in this episode.
Music
[
]
"Ebben, Ne Andro Lotana" - Extreme Music
"Tomorrow" - Lisa Shaw
"Fly on the Wall" - Kelly Pardekooper
"Wild Love" - Kelly Pardekooper
"Gnossienne No. 4" - Erik Satie
"Hellbound Train" - Three Bad Jacks
"Cello Suite No.5"- Allemonde Movement
"Everybody Needs Somebody" - Silas Hogan
"Badunkadunk" - Extreme Music
"Never Let Me Go" - Katie Webster
Production
[
]
There are no production notes available for this episode.
Title
[
]
The title and the song of the episode may allude on Maryann's movement to Sookie's house testing Tara and staying in her life achieving her goals. It could also refer to Eric's moments before death and how Godric saved him by turning him.
Trivia
[
]
Memorable Quotes
[
]
Hoyt Fortenberry: "I can't stop thinking about you."
Memorable Dialogue
[
]
Daphne Landry: "Terry, could you make the iced tea?"
Arlene Fowler: "Don't you do it."
Daphne Landry: "Please?"
Arlene Fowler: "You better not."
(Terry groans and walks away mumbling about being caught in the middle.)
Bill Compton: "Here I am responsible for you and Jessica and no decisions are mine. I just feel like a..."
Sookie Stackhouse: "Human?"
Bill Compton: "Waitress."
Sookie Stackhouse: "You're walkin' in my shoes and it's givin' you blisters."
Sookie Stackhouse: "If all I do in Dallas is shut up and take orders then I might as well be slingin' beers at Merlotte's. You're the one who told me I was more than a waitress."
Bill Compton: "You are."
Cast
[
]
Starring

[

]

Recurring

[

]

Guest starring

[

]

Special guest starring

[

]

Co-starring

[

]

Allan Hyde as Godric
Greg Collins as Gabe

Fredrik Ejemo

as

Gunnar

Ailsa Marshall

as Desk clerk

Michael Scott Brennan

as Guy

Keith Oney

as Man in Bar

Jen Ray

as Woman in Bar

Kim Swennen

as Well-dressed woman

Uncredited

[

]
Gallery
[
]
Images
[
]
Video
[
]
Trading Cards
[
]
Episode B1
[
]
Episode Ratings
[
]
Episode #
Episode Title
Viewers (in millions)
#2.05 (17)
"

Never Let Me Go

"
3.85