Also Known As
Miss Jeanette
Unknown Father - Father
Unknown Mother
[[:Category:{{{Images}}}|Images]]
Nancy LeGuare, or more commonly known as Miss Jeanette, was an employee at De Soto Pharmacy on the HBO original series True Blood. Played by American guest starring actress Aisha Hinds, Nancy makes her debut on the episode "Burning House of Love" in the series' first season. Playing the role of minor antagonist through the same season, Nancy was a con artist who reinvented herself as a witch doctor, Miss Jeanette, who tricked Tara Thornton and her mother Lettie Mae into submitting to exorcisms. Playing a recurring role through the series' first, second, and third seasons, Miss Jeanette meets an untimely demise on the episode "You'll Be the Death of Me", at the end of the series' first season, and appears in flashbacks through the series' second and third seasons. She was last seen on the episode "Evil is Going On", at the end of the series' third season.
Nancy LeGuare was a cashier at De Soto Pharmacy; however, her low salary and large family led her to become a con woman. She reinvented herself as the witch doctor Miss Jeanette and began running an exorcism con inside a run down bus in the woods. ("I Don't Wanna Know")
Tara and Lettie Mae met Miss Jeanette and, after paying nearly five hundred dollars, Lettie Mae was exorcised of the demon causing her alcoholism. Afterward, Miss Jeanette told Tara that she had a demon, too, a worse one than that of her mother and, if she ever wanted to lead a happy life, she had to have it exorcised. ("Burning House of Love")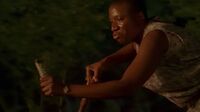 After a time, Tara went back to Miss Jeanette to get her exorcism, during which she was fed a strange solution which made her hallucinate a young, black-eyed version of herself which represented all the negative feelings Tara was trying to exorcise. Tara stabbed the hallucination and Miss Jeanette comforted her telling Tara that it was over. Tara returned home to share the good news with her mother, but Tara's celebration was short-lived. She visited De Soto Pharmacy and discovered that Miss Jeanette was a clerk there.
When she discovered Miss Jeanette was a fraud who fed Tara and her mother ipecac and peyote, Tara became angry and distraught. However, Tara decided to hide the truth from her mother after witnessing how she had dropped alcohol and was getting her life back together. ("I Don't Wanna Know")
("You'll Be the Death of Me") Following the death of Drew Marshall, Miss Jeanette was found dead in Andy Bellefleur's car, which was parked outside Merlotte's. Her back was clawed open and her heart had been ripped out. (This turned out to be the mode of operation of Maryann Forrester, a Maenad that had come to Bon Temps in her quest to bring forth her god Dionysus.) In fact, Miss Jeanette had actually been killed by Benedict Talley under the mental influence of Maryann who initially believed that the con woman was the vessel she could sacrifice to summon Dionysus. ("You'll Be the Death of Me")
Although she was revealed to be a con woman, Lettie Mae still believed that Miss Jeanette had cured her. Miss Jeanette did not have any supernatural abilities, but the ritual she had performed had brought forth great power (presumably Tara's genetic potential for mediumism and witchcraft), which is what lured Maryann to Bon Temps.
Season three appearances
"Bad Blood"
"Beautifully Broken"
"It Hurts Me Too"
"9 Crimes"
"Trouble"
"I Got a Right to Sing the Blues"
"Hitting the Ground"
"Night on the Sun"
"Everything Is Broken"
"I Smell a Rat"
"Fresh Blood"
"

Evil is Going On

"
Community content is available under
CC-BY-SA
unless otherwise noted.