Mentioned in
{{{Mentioned}}}
Also Known As
Vampire Matt
Unknown husband, unknown son
Powers
All Vampiric Strengths
Has shifted into
{{{Shifts}}}
Notable Progeny
{{{Progeny}}}
Notable kills
{{{Kills}}}
Cause of death
{{{Cause of death}}}
Killed by
{{{Killed by}}}
Hair color
{{{HairColor}}}
[[:Category:{{{Images}}}|Images]]
Matt is a minor character in the series True Blood. Played by actor Brian Poth, Matt was first introduced in the series' sixth season and returned for the series' seventh, and final, season. He is a gay vampire and a friend of Holly's. Probably due to his southern roots, Matt has been shown to be a gentleman, carrying himself in a poised, respectable and innocuous fashion. He treats his fellow Bon Temps residents (human and supes alike) with respect, but is somewhat of a gossip and may take offense to rudeness. He is non-violent and is shown to be a good neighbor.
After sensing that Terry intends on killing himself, Arlene turns to Holly for help. She remembers Matt, who owes her a favor and asks that he glamour Terry to rid him of his guilt and depression. Matt arrives at the house and briefly greets Holly and Arlene before rushing over to Terry. Under Arlene's guidance, Matt makes Terry forget about his experiences with the Marines.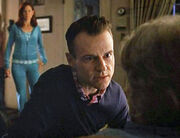 Six months later, Matt aligns with Sam Merlotte, adhering to the mayor's "every human, a vampire" strategy to protect Bon Temps citizens from Hep-V vampires. He is present at the Bellefleur's Massacre and accompanies a reluctant Sam back to his home. ("Jesus Gonna Be Here")
Still acting as Sam's protector, Matt is present in the church when Sam and Reverend Daniels contemplate the fate of the people taken by the Hep-V vampires. He is startled by the sudden arrival of Willa and a hallucinating Lettie Mae Daniels. After the Reverend asks for them to leave, Matt and Sam drive down the road. During this time, Matt attempts to discuss Lettie, saying that the Reverend's "got his hands full" with her. Somewhat surprised, Sam states that Matt is rather dishy for a vampire, to which Matt simply says that he was just making conversation. Their discussion is cut short when a mob of Bon Temps residents block the road. Sam and Matt exit the truck and the former tries to convince them to abandon their vendetta. A member of the mob states that they have no intentions of turning back and feels that they are better equipped to handle the situation than he and his "faggy vampire" are. Aggravated, Matt is ready to confront the man but is shot and destroyed by Vince. ("Fire in the Hole")
Season six appearances
"Who Are You, Really?"
"The Sun"
"You're No Good"
"At Last"
"F**k the Pain Away"
"

Don't You Feel Me

"
"In the Evening"
"Dead Meat"
"Life Matters"
"Radioactive"
Season seven appearances
"

Jesus Gonna Be Here

"
"I Found You"
"

Fire in the Hole

"
"Death is Not the End"
"Lost Cause"
"Karma"
"May be the Last Time"
"Almost home"
"Love is to Die"
"Thank you"
Community content is available under
CC-BY-SA
unless otherwise noted.