Mentioned in
{{{Mentioned}}}
Date of birth
{{{Birth}}}
Date of death
2008 (met the True Death)
Powers
All vampiric powers
Has shifted into
{{{Shifts}}}
Notable Progeny
{{{Progeny}}}
Notable kills
{{{Kills}}}
Cause of death
{{{Cause of death}}}
Killed by
{{{Killed by}}}
Hair color
{{{HairColor}}}
[[:Category:{{{Images}}}|Images]]
"That's what we are. Death."
―Longshadow
Longshadow was a vampire on the HBO original series True Blood. Played by American guest starring actor Raoul Trujillo, Longshadow makes his debut on the episode "Escape from Dragon House" in the series' first season. Longshadow was a business partner of Eric Northman and Pamela Swynford de Beaufort and served as bartender of Fangtasia. Playing a recurring role through the same season, Longshadow met an untimely demise in the Season 1 episode "Plaisir D'Amour".
Biography
Edit
Background
Edit
Born 1752, he was made vampire in 1790. A member of the Huron Tribe, who grew up amidst the terror and strife of the French and Indian War, Longshadow fought for both sides, always available to the highest bidder. He met his Maker at a tavern in upstate New York.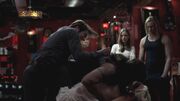 Longshadow for a long time worked as a bartender in Fangtasia. Tattooed all over his body attracted the attention of ordinary adventurers and fangbangers.
Longshadow foolishly stole $60,000 from Fangtasia. Sookie Stackhouse, using her telepathic abilities on the human waitress Ginger, discovered that Longshadow was the thief and had glamoured Ginger to keep her from revealing his crime. He attacked Sookie for her discovery and was promptly staked and destroyed by Bill. After his death, Longshadow was replaced at Fangtasia by Chow. He was almost 260 years old when he met the True Death.
Appearances
Edit