Wiki Targeted (Entertainment)
Play Sound
Mentioned in
{{{Mentioned}}}
Date of birth
{{{Birth}}}
Date of death
{{{Death}}}
Profession
{{{Profession}}}
Has shifted into
{{{Shifts}}}
Notable Progeny
{{{Progeny}}}
Notable kills
{{{Kills}}}
Cause of death
{{{Cause of death}}}
Killed by
{{{Killed by}}}
Hair color
{{{HairColor}}}
[[:Category:{{{Images}}}|Images]]
Lisa Fowler is the daughter of Arlene Fowler on the HBO original series True Blood. Played by American child actress Laurel Weber, Lisa makes her debut on the episode "Sparks Fly Out" in the series' first season. Playing a recurring role through the series' first, second, fourth, fifth, sixth, and seventh seasons, Lisa was last seen in the series' finale episode, "Jesus Gonna Be Here", at the beginning of the series' seventh, and final, season.
Personality
[
]
Physical Appearance
[
]
Biography
[
]
Background
[
]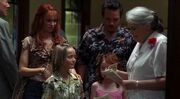 Lisa is first seen with her brother Coby in Sparks Fly Out at Bill Compton's Civil War speech. She and Coby are intrigued by vampires. Both Lisa and Coby are seen later in the season when Arlene leaves them at Sookie's to be babysat. While the kids are perfectly comfortable with Bill there, Arlene nervously covers them in silver.
Lisa is very excited at the end of this episode when she is told that her mother would marry Rene. Lisa was in the season finale with Coby watching the sex tape of Maudette Pickens and the vampire Liam McKnight. Arlene quickly came into the room and shut off the tape. After Lisa and Coby told her they got the tape out of a box of Rene's, Arlene looked at the items and realized he was the serial killer.
Lisa is not seen until the 11th episode of this season. In Frenzy, Sam finds Lisa and Coby dirty and hungry in the woods behind Merlotte's. She and Coby had been hiding for days after their mother and the rest of Bon Temps went under Maryann's spell. Sam makes the children lunch and the children reveal they are worried about their mother and want her back to normal.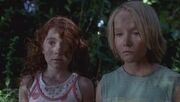 It is revealed in this episode that Lisa and Coby do not know their father. They ask Sam about him, and, while he says he did not know him, he says he heard their father was a "bit of a wild card". After Coby's suggestion, Sam takes the children to Eric Northman to get help with the Maryann problem. While her brother is excited about the vampires and even asks to see Eric's fangs, Lisa flinches when they come out.
Eric asks Lisa if she likes vampires, and she responds that her "almost stepdaddy didn't like vampires, but we don't have a problem with them." In the season finale, Lisa and Coby are in Merlotte's with a very apologetic Arlene and a dozen plates of food. Both children willingly forgive her and Terry Bellefleur gives the children toy guns.
When the adults leave, Lisa and Coby discuss how they knew Rene was dead despite their mother saying he's on "a vacation with Jesus".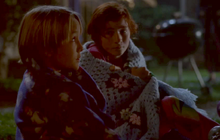 Season 4 showed Lisa, her brother Coby, and their mother Arlene asleep on the sofa. While they slept, Terry walked around the house taking care of Mikey and doing laundry. Terry sat the baby down on the floor to play while he went to check the dryer. When he returned, he saw writing on the wall behind Mikey that said baby not yours. At seeing this Terry started yelling, which woke up Lisa, Coby, and Arlene. Sitting up on the sofa they all three stared at the wall where Terry was pointing. Convinced that it was the spirit Rene`, Arlene and Terry decide to call a priest and have an exorcism. ("I'm Alive and on Fire")
One night Arlene and Terry's house catches on fire, frantically Arlene searches for Mikey while Terry gets Lisa and Coby out. Terry has to carry Arlene outside to make her leave the house. As Arlene screams for her children, Terry points them out to her safe on the lawn. Arlene rushes over to make sure that they are ok. When Arlene asks them how the baby got outside, Lisa and Coby tell her that they don't know. They tell her the baby was already sitting in the yard when they came out playing with that old creepy doll. ("I Wish I Was the Moon")
Terry's army squadmate Patrick Devins stays with the family. He eats breakfast with them and they discuss the fire. ("Turn! Turn! Turn!")
Gallery
[
]
Images
[
]
Appearances
[
]
Season two appearances
"Nothing but the Blood"
"Keep This Party Going"
"Scratches"
"Shake and Fingerpop"
"Never Let Me Go"
"Hard-Hearted Hannah"
"Release Me"
"Timebomb"
"I Will Rise Up"
"New World in My View"
"

Frenzy

"
"

Beyond Here Lies Nothin'

"
Season four appearances
"She's Not There"
"You Smell Like Dinner"
"If You Love Me, Why Am I Dyin'?"
"

I'm Alive and on Fire

"
"Me and the Devil"
"

I Wish I Was the Moon

"
"Cold Grey Light of Dawn"
"Spellbound"
"Let's Get Out of Here"
"Burning Down the House"
"Soul of Fire"
"

And When I Die

"
Season five appearances
"

Turn! Turn! Turn!

"
"Authority Always Wins"
"Whatever I Am, You Made Me"
"We'll Meet Again"
"Let's Boot and Rally"
"Hopeless"
"In the Beginning"
"Somebody That I Used to Know"
"Everybody Wants to Rule the World"
"Gone, Gone, Gone"
"Finally"
"Save Yourself"
Season six appearances
"Who Are You, Really?"
"The Sun"
"You're No Good"
"At Last"
"F**k the Pain Away"
"Don't You Feel Me"
"

In the Evening

"
"Dead Meat"
"

Life Matters

"
"Radioactive"
Season seven appearances
"Jesus Gonna Be Here"
"I Found You"
"Fire in the Hole"
"

Death is Not the End

"
"Lost Cause"
"Karma"
"May be the Last Time"
"Almost home"
"Love is to Die"
"

Thank You

"