"Let's Get Out of Here" is the ninth episode of Season 4 of the HBO original series True Blood, and the series' forty-fifth episode overall.
Convalescing after her latest near-death trauma, Sookie envisions a world where there's room for both Bill and Eric. Jesus tries to purge the restless spirit out of Lafayette; Marcus enlists Alcide to help him deal with the Sam situation; Bill and Nan clash over their respective agendas; Hoyt asks Jason to make a delivery to Jessica. Despite Tara and Holly's misgivings, Marnie plots her next move against the vampires, during a "Festival of Tolerance" event at Shreveport.
"I didn't think it was possible,
but you actually make me long for Queen Sophie-Anne."
― Nan Flanagan

Alcide carries Sookie away from the battlefield. As he runs Bill intercepts him and grabs Sookie. Bill brings her to her house and lays her on the sofa and tries to get her to drink his blood. Bill tells Alcide that they have to pray as she barely has a pulse.
At the Moon Goddess Emporium, the coven yells at Antonia because she brought Eric back with them. She tells them that he is under her control. Tara is angry at her for rejecting Bill's peace offering and causing needless violence. Antonia tries to make them hold hands to cast a protection spell. When they refuse, she plots her next move against the vampires and orders the others not to leave. Tara and Holly have misgivings.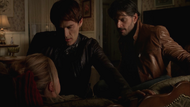 Sookie wakes up; Bill's blood saved her. She instantly asks where Eric is and barely acknowledges Alcide's presence, much less the part he had in saving her life. Alcide is frustrated with Sookie and angrily leaves her home.
At Luna's house Luna urges Sam to leave because Marcus is not his problem. She tells him it will be worse for everyone if Marcus comes back and Sam is still there. Sam suggests a camping trip to help Emma forget the night's events.
Debbie pretends to be asleep when Alcide returns home. She is obviously upset that he lied to her and went to Sookie's aid.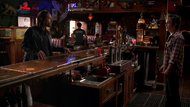 Jessica unloads her problems to Nan. Nan tells her that her whining has convinced her that she doesn't want to be a Maker.
Bill, Jessica, and Nan are all silvered below Bill's home. Bill tells Nan that they must cancel tomorrow's "Festival of Tolerance" event because Eric is missing. Bill and Nan clash over their respective agendas. Nan tells him that the festival is going forward and Bill better be in a tolerant mood.
Hoyt wakes with his alarm beeping. It's obvious he has been drinking and his home is in disarray. He sits on the sofa and picks up a Taylor Swift CD. He tosses it in a box of Jessica's belongings, which he labels "For you, Monster." Hoyt gets a visit from a gun-wielding Lafayette, possessed by the ghost of Mavis. She is carrying Mikey. She recognizes Hoyt's house as previously hers, and forces him out at gunpoint.
Arlene and Terry are distraught over Mikey's kidnapping. Jason and Andy try to figure out what happened when Jason's phone rings. Hoyt tells him that Lafayette has the baby. Andy leaves the room to get some pants for Hoyt, but instead downs a vial of V he found in the sofa cushions.
A convalescent Sookie dreams of a world where there is room for both Bill and Eric. Sookie claims to be in love with both of them and the three begin to have sex.
Tommy is at Merlotte's when Marcus walks in looking for Sam. He asks about Sam's whereabouts but Tommy claims to not know. Marcus hands him a card and tells Tommy to have Sam meet him that night.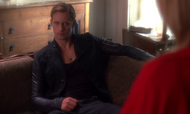 Jason, a pant-less Hoyt, and Andy are outside of Hoyt's home. Andy is pumped with V and approaches the home. He tells Lafayette to let him in. Jason tells Andy that the rules state to diffuse the situation. Andy smashes the door down and Mavis refuses to give up Mikey. Terry and Arlene follow the police to the house.
Luna and Sam are camping while Emma is chasing bunnies. Emma says that she longs to grow up and be a shifter. Sam hides and shifts into a bunny, delighting Emma.
Debbie buys V from a back alley dealer.
Jesus comes to Hoyt's house to help with Lafayette. He begins to communicate with Mavis and claims that he can help. He tells Mavis that his boyfriend is a Medium and she has taken his body. She grows distraught realizing what has happened.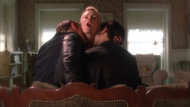 Debbie surprises Sookie with a visit. She brings her flowers and Sookie reluctantly lets her in. They sit at the kitchen table and Debbie tells Sookie she wants to mend their relationship. She offers her help. Sookie uses her telepathy and believes that Debbie is being honest. She accepts her offer.
At the Moon Goddess Emporium, Debbie knocks on the door and Antonia answers. Debbie claims to pledge the Werewolf's allegiance to the Witch's cause. Meanwhile, Sookie is breaking in through a back window. Debbie causes a distraction while Sookie searches for Eric. She finds him in a dazed state, realizing he is under a spell. Tara, wielding a gun, tells Sookie to leave. She telepathically tells Sookie that Antonia is holding them captive, plus where Bill is. They stage a fight so that Tara wouldn't look like a traitor, and Sookie drives away with Debbie.
Antonia brings Eric and Roy, her most loyal follower, with her to the "Festival of Tolerance" and leaves the rest of the coven trapped by a spell. When Tara attempts to open the door, the door knob burns her hand.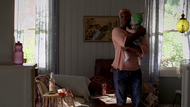 At the "Festival of Tolerance" Bill and Nan are on the stage while a college girl tells the story of her older sister becoming a vampire.
Jesus helps Jason dig for the remains of Mavis's son. Once found, she holds the skeletal remains of the boy. Jesus grips her shoulder and begins to cast an exorcism spell. Mavis leaves Lafayette's body in a shimmer of bright, golden lights. She thanks Lafayette and is reunited with her son. She sings to her son as her spirit finally moves on.
Jason remains at Hoyt's house, helping him fix his door. Jason tells Hoyt they witnessed a miracle tonight. Jason picks up the Taylor Swift CD and teases Hoyt for having it. Hoyt explains that it belongs to Jessica and asks Jason to take her the box of her possessions.
Tommy uses his ability as a skinwalker to once again shift into Sam. He goes to see Marcus. Alcide has decided to step up in the ranks of the pack, and is there to provide muscle for Marcus. Tommy upsets Marcus when he says that he hasn't slept with Luna but his brother has. The pack beats Tommy, only stopping when Alcide forces them to. Tommy shifts back into himself while unconscious; Marcus and the others are horrified that they beat down a teenage boy. Alcide quickly carries him away.
Antonia has Eric draw Blackburn, Kirsch, and Duprez into a trap. She casts the same spell on them that she used to control Eric.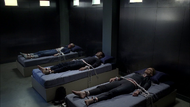 Jason shows up at Bill's house and delivers Jessica's things, after scratching out the words "For you, Monster." Jason says if she ever needs to talk he is there for her. She asks if he wants to come in, but he suggests it isn't the best idea. The two have sex in the back of his truck.
Sookie gets to the festival just as they are introducing Bill. Antonia and Roy are watching from the balcony. Bill begins to make his speech when Sookie calls for him from the crowd. The three human security guards are gutted and hanging from the grips of the bewitched vampires. The people panic and begin to run. Sookie screams "RUN!"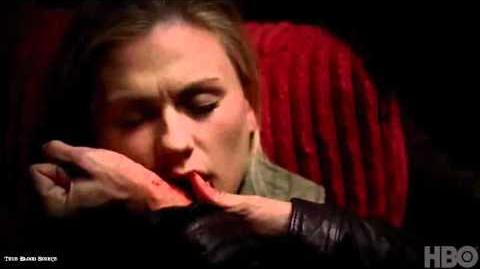 This episode currently hasn't received any awards.
When Debbie is waiting up late at night for Alcide to come home, she is watching the television program Cheaters.
Among Jessica's belongings that Hoyt packs up is the book Twilight, another popular vampire series written by Stephenie Meyer.
Bloopers and Continuity Errors
[
edit
|
edit source
]
There are no bloopers that occur in this episode.
There are no continuity notes for this episode.
There are no flashbacks that occur in this episode.
There are no miscredits that occur in this episode.
"Sleep Walk" - Henri Rene
"Stray Dog" - Kevin Welch
"Theme from picnic" - Terry Snyder
"Tears Wellin' Up" - Chris Norton and Frank Mize
"Haunted" - Taylor Swift
"Let's Get Out of Here" - Les Savvy Fav
There are no production notes available for this episode.
There are no notes on the title based on this episode.
There is currently no trivia associated with this episode.
Andy Bellefleur: "Open up the door you racist shit bag or I'll open it the fuck up for you!"
Antonia Gavilán de Logroño: (in Marnie's body) "Fuckin' Werewolf."
Bill Compton:
"Werewolf! I'm gonna need you to SHUT THE FUCK UP!"
"I'm the King of Louisiana. I don't share."
Jason Stackhouse:
"So we need to get him pants..."
"What was I supposed to do? Shoot him with the baby in his arms?"
Lafayette Reynolds: "My name's Mavis!"
Marcus Bozeman: "I'll take honesty every day of the week, and twice on Sunday!"
Mavis: "Oh no! How I make a baby with this, me?"
Nan Flanagan:
"What IS the story my King? What have you gone and fucked up now?"
"Ah, Jesus fucking Christ."
Sookie Stackhouse:
"Get your butts in the living room. We need to have a little talk..."
"I think I'm in love with both of you."
"I'm proposing that the two of you, be mine."
"I have to say, for a badass werewolf, you drive like a girl."
(to Bill): "RUN!"
Terry Bellefleur: "Don't worry about it, these things happen. We still love you Lafayette."
Mavis: "Lafayette, thank you for everything."
Lafayette Reynolds "You got it bitch."
Bill Compton: "How can you have an event, in honor of the living dead, without any living dead? It's like having a civil rights protest without any black people."
Nan Flanagan: "They're called African-Americans."
Marcus Bozeman: "Well, you know what I call a dude that'd admit there ain't nothing he won't do for the woman he loves?"
Alcide Herveaux: "What?"
Marcus Bozeman: "A man."
Jason Stackhouse: "Hey, when you and Lafayette role play, does he ever pretend to be a woman named Mavis?"
Jesus Velasquez: "I'm going to forget you just said that..."
Roy: (about Sookie) "Shoot her, shoot her, shoot her!"
Holly Cleary: "Fucking chill, Roy!"
Bill Compton: "Are we the only vampires here?"
Nan Flanagan: "Other than this one's sister we're about to trot out, yes, we are."

Episode #
Episode Title
Viewers (in millions)
#4.09 (45)
"

Let's Get Out of Here

"
5.53
Community content is available under
CC-BY-SA
unless otherwise noted.