Spider-Man: No Way Home Trailer Dropped - The Loop
Play Sound
Mentioned in
{{{Mentioned}}}
Profession
Sheriff Deputy
Has shifted into
{{{Shifts}}}
Notable Progeny
{{{Progeny}}}
Notable kills
{{{Kills}}}
Cause of death
{{{Cause of death}}}
Hair color
{{{HairColor}}}
[[:Category:{{{Images}}}|Images]]
"Bet it's gonna rain tonight... I always feel it where that panther tore my throat open."
―Kevin
Kevin Ellis was a sheriff's deputy in the small town of Bon Temps, Louisiana on the HBO original series True Blood. Played by American guest starring actor John Rezig, Kevin made his debut on the episode "Escape from Dragon House" in the series' first season. Playing a recurring role through the series' first, second, third, fourth, fifth, and sixth seasons, Kevin met an untimely demise on the episode "Jesus Gonna Be Here", at the beginning of the series' seventh, and final, season.
Personality
[
]
Physical Appearance
[
]
Biography
[
]
Background
[
]
Kevin's first appearance was at the murder scene of Dawn Green. After Sookie found Dawn's body, she called the police. Kevin was one of the deputies on duty. He comes up behind Sam and Sookie, as they sat talking. Kevin tells Sam that the detective in charge wants him to see if Sam had a set of keys to the storage, since Dawn rented from Sam. Sam stands up, pulls a set of keys from his pocket and goes with Kevin to unlock the storage. ("Escape from Dragon House")
Kevin tries to stop Sookie from going to the cell where her brother Jason is being held on murder charges. René is visiting Jason at the time Sookie arrives, and Kevin tells her that Jason is only allowed one visitor at a time. He says that he can't let her in and tries to hold her back. Sookie pushes her way past Kevin and says she is going to see her brother. Kevin leaves to go get Andy. ("You'll Be the Death of Me")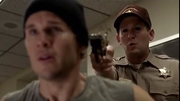 Maryann takes control of most of the humans in Bon Temps. As chaos consumes the town, Andy and Jason pull up to the police department to get supplies. When they go in, Rosie meets them and tries to seduce them. Jason tells Andy to go and get what they need while he keeps Rosie busy. While he talks to her, Kevin comes up behind Jason and holds a gun to Jason's head. Rosie tells Kevin to blow Jason's head off, because she wants to see what happens. Kevin is under the same dark eyed spell as the rest, and asks Jason "what's the name of that game with one bullet and you don't know if it will go off or not". As Jason immediately says Russian roulette, Kevin pulls the trigger and the gun clicks. Andy walks back in and yells at Kevin to drop the gun. Kevin turns and shoots Andy in the chest. As Andy falls to the floor Jason grabs Kevin's gun. Jason is relieved to see that Andy's fine after he shows him he was wearing a bullet proof vest. ("Frenzy")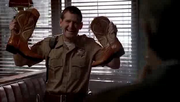 Andy hears a call come in on his car radio about a meth lab bust in Hotshot. When he shows up, Kenya tells him he shouldn't be there. Andy walks over to Kevin and he tells Andy that he sure sounded smart on TV. As Andy and Kenya run off to make arrests, Kevin is left to deal with Calvin Norris. ("Beautifully Broken")
At Bud Dearborne's retirement party, Andy tells Bud how he learned everything he knows from Bud. Kevin sitting at a booth jumps up and tells Bud, since he hung his hat up that he might as well put on his dancing shoes. He gives Bud a new pair of boots. As they all stand together, Bud announces Andy as the new sheriff. Not pleased, Kenya rolls her eyes over at Kevin. ("9 Crimes")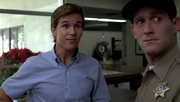 Kevin and Kenya stand in the Bon Temps police dept. talking about mulch as Jason walks in. Kevin asks Jason what he's doing there. Kevin looks shocked as Jason tells him he's there to work. Kenya calls Andy out to deal with Jason. Kevin tells Andy he guesses Andy finds his work inadequate. Andy says he will if Kevin doesn't get to the corner outside and cross the kids from school. Later as Kevin and Kenya decide which calls to go to, Jason wants to know which one he gets. Kenya tells him to stay there and file papers. ("Trouble")
Receiving an anonymous call (from Jason Stackhouse) about an injured person, Kevin is the first on the scene. Unbeknown to Jason however, the injured, tied up individual is a werepanther. Kevin is badly injured on the call and ends up in the hospital, near death. ("Everything Is Broken")
Kevin is helping to investigate the probable vampire suicide of Beulah Carter. Andy tries to decide whether to call the coroner or the dept. of sanitation. Kevin looks up at the sky and says "Bet it's gonna rain tonight". He says he can always tell now, because of where the werepanther tore his throat out. Kevin greets Mrs. Fortenberry as she up and starts taking pictures of the vampire remains. Kevin gets back to work after Andy turns and catches him listening to Andy and Maxine's conversation. ("Spellbound")
Season 5
[
]
Kevin is annoyed when Sheriff Andy Bellefleur chooses to revoke a ticket that he issued to the son of Judge Clements for speeding in a school zone. ("Authority Always Wins")
Rosie and Kevin mock Andy when a naked picture of him is posted to Facebook. ("Whatever I Am, You Made Me")
Kevin asks to accompany Judge Clements when he invites Andy out but the judge pointedly ignores him. ("We'll Meet Again")
Kevin questions Andy Bellefleur when he witnesses the shooting of the Stake House clerk Junior by Sam Merlotte. ("In the Beginning")
Kevin is at the station when Joe Bob, a suspect in the supernatural murders, is being questioned. Andy and Jason beat up Joe Bob. They later realize that Bud Dearborne is a link between Joe Bob and Junior and raid his farm, finding him with hostages and shooting him when he attempts to attack them. ("Everybody Wants to Rule the World")
Season 6
[
]
Kevin and Andy are looking through the new guns and gadgets. Andy is surprised by the fact there are glamour-resistant contacts. ("You're No Good")
When Andy's four daughters go missing, Kevin asks about them so he might help in the search. However, Kevin is very confused by the strange and vague description that Andy gives of his daughters. ("At Last")
Season 7
[
]
During the attack of the Hep-V vampires at the Bellefleur's bar, Kevin is kidnapped from the cop car where he is hiding with Rosie by some of them, along with Arlene, Holly, Nicole Wright and Jane. They are held in the Fangtasia basement, occupied by the infected vampires, and Kevin is chosen by a male vampire who drains him, in front of the three women. ("Jesus Gonna Be Here")
Gallery
[
]
Images
[
]
Appearances
[
]
Season one appearances
"Strange Love"
"The First Taste"
"Mine"
"

Escape from Dragon House

"
"Sparks Fly Out"
"Cold Ground"
"Burning House of Love"
"Fourth Man in the Fire"
"Plaisir D'Amour"
"I Don't Wanna Know"
"To Love Is to Bury"
"

You'll Be the Death of Me

"
Season two appearances
"Nothing but the Blood"
"Keep This Party Going"
"Scratches"
"Shake and Fingerpop"
"Never Let Me Go"
"Hard-Hearted Hannah"
"Release Me"
"Timebomb"
"I Will Rise Up"
"New World in My View"
"

Frenzy

"
"Beyond Here Lies Nothin'"
Season four appearances
"She's Not There"
"You Smell Like Dinner"
"If You Love Me, Why Am I Dyin'?"
"I'm Alive and on Fire"
"Me and the Devil"
"I Wish I Was the Moon"
"Cold Grey Light of Dawn"
"

Spellbound

"
"Let's Get Out of Here"
"Burning Down the House"
"Soul of Fire"
"And When I Die"
Season six appearances
"Who Are You, Really?"
"The Sun"
"

You're No Good

"
"

At Last

"
"F**k the Pain Away"
"Don't You Feel Me"
"In the Evening"
"Dead Meat"
"Life Matters"
"Radioactive"
Season seven appearances
"

Jesus Gonna Be Here

"
"I Found You"
"Fire in the Hole"
"Death is Not the End"
"Lost Cause"
"Karma"
"May be the Last Time"
"Almost home"
"Love is to Die"
"Thank you"