Wiki Targeted (Entertainment)
Play Sound
"Keep This Party Going" is the second episode of Season 2 of the HBO original series True Blood, and the series' fourteenth episode overall.
Summary
[
]
Having kissed and made up, Sookie and Bill's relationship seems stronger than ever. Bill still has the problem of Jessica, who is proving to be just a bit of a wild child. Clan leader Eric Northman wants to use Sookie's services again. Feeling guilty about her role in having Jessica made into a vampire, Sookie agrees to take her to her home where she promises she just wants to see her parents and sister one more time. Things get out of hand when she jumps out of the car and she and Sookie are soon paying a visit. It's left to an outraged Bill to resolve everything. Jason attends the leadership seminar run by the Fellowship of the Sun church and makes quite a first impression. Maryann visits Sam Merlotte's bar with interesting effects. She also reminds Sam of just who is the most powerful between them. Lafayette manages to escape from Eric's dungeon but, unable to get away completely, suggests an alternate way out to his captors.
Synopsis
[
]
"So, what's it gonna be Lafayette?
Would you like your leg to kill you? Or would you prefer us to do that?"
― Eric Northman, to Lafayette Reynolds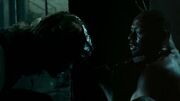 After making up with Bill, Sookie suggests that he take it a little easier on Jessica as she is just a teenager. Bill tries to convince Sookie that a vampire as new as she is not capable of controlling her impulses and that she could be dangerous, however he attempts to buy Jessica some new clothing. At the retail shop, he is approached by a saleswoman, then eventually by Eric.
En route to the Light of Day Institute Leadership conference Jason becomes fast-friends with an anti-vampire zealot named Luke McDonald. After Jason makes a good impression on Steve Newlin and (Sarah Newlin in particular), Luke's good natured friendship turns to bitter jealousy. He tells Jason that he doesn't belong there.
Eric demands from Bill that he and Sookie help in finding a vampire sheriff named Godric who has gone missing in Dallas. Meanwhile, Tara finds out more about Eggs' past as a criminal and he makes it clear that he is interested in her.
Maryann joins Tara when she goes to work at Merlotte's. Sam is weary of her presence, and asks her to leave. Maryann eventually convinces him to let her stay, asking if he really is going to deny her service after she forgave him stealing $100,000 from her. Maryann orders lunch, ordering just about everything on the menu. Much later in the evening Sam notices that the customers at Merlotte's are beginning to act belligerent, and angrily asks Maryann what she's done to them. Maryann's whole body begins to vibrate, causing Sam to shift into a collie. Maryann warns him that she can do this anytime she wants, so he should think twice before ever threatening her again.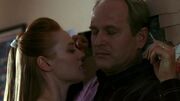 After a failed attempt to escape from the basement of Fangtasia, Lafayette is badly injured and asks that Eric, Pam, and Chow Lin to turn him into a vampire, rather than kill him, saying he'll be "your badass vampire." Eric says he'll take that into advisement and in the mean time, it's "chow time." Fangs bared, all three of them ferociously bite him. Jessica realizes she misses her family after her parents, who think she has just gone missing, appear on TV. She asks Sookie to take her to see her family and Sookie agrees, on the condition that Jessica stay in the car. Although she agrees, Jessica eventually ignores Sookie and drops in on her old family.
When Jessica's father comes home, he angrily accuses her of putting the family through hell, and even though Sookie tries to stop her, Jessica attacks her father. She threatens to kill him for all the times he beat her. Bill shows up and glamours his way into the house just in time. Bill throws Sookie out of the house barking at her that he has to "clean up her mess".
Trailer
[
]
Notes
[
]
Accolades
[
]
This episode currently hasn't received any awards.
Allusions
[
]
This episode does not contain any allusions.
Bloopers and Continuity Errors
[
]
There are no bloopers that occur in this episode.
Continuity
[
]
There are no continuity notes for this episode.
Flashbacks
[
]
There are no flashbacks that occur in this episode.
Miscredits
[
]
There are no miscredits that occur in this episode.
Music
[
]
"Skin 'Em Up" - Extreme Music (Eric interrogates Lafayette)
"Forty Years Down The Road" - Black Toast Music
"God Bless Texas" - Little Texas
"I Can See It" - Music Box
"Lighten Up" - Willie Lomax
"Jesus Asked Me Out Today" - Amanda Jane and The God Rockets
"Not Coming Down" - Messy Music
"You're Gonna Miss Me" - 5 Alarm Music
"Wanna Cause Some Trouble" - Craig Stull
"One and Only" - Black Toast Music
"One Monkey Don't Stop The Show" - Sonny Terry
"Keep This Party Going" - The B-52s
"Deeper Into You" - Johnny Hazzard
"You Did (Bomp Shooby Dooby Bomp)" - Chuck Prophet
Production
[
]
There are no production notes available for this episode.
Title
[
]
The tile and the song may refer to the general feeling that things stir up in Bon Temps and also it could easily describe the party that Maryann was ready to set in Merlotte's.
Trivia
[
]
This episode continues the tradition of putting food as a subject of every second episode. Maryann seems to have stayed at Merlotte's the whole day and surprisingly consumed every plate off the menu.
Memorable Quotes
[
]
Eric Northman:
"Is there blood in my hair?"
"I wouldn't try anything rash if I were you. I'm still hungry."
Jessica Hamby:
(imitating Bill) "Jessica, I have errands to run. Errands that do not require your presence, so remain here and do your best to stay out of trouble."
Memorable Dialogue
[
]
Eric Northman: "Good evening, old sport."
Bill Compton: "Eric?"
Eric Northman: "It's the new me. You like?"
Bill Compton: "I do. Very much."
Eric Northman: "We made a deal, your human and I, that if I didn't kill anyone, she would work for me as often as I like. Now, you remember this, don't you? You were there."
Bill Compton: "Taking her cross state lines is a far cry from taking her to Fangtasia for the evening."
Eric Northman: "I'm only asking your permission out of respect. If I want her, I can simply take her. Is "no" your final answer?"
Bill Compton: "It is."
Eric Northman: "Poorly played, Bill."
Pamela Swynford de Beaufort: "I thought prostitutes were good at keeping secrets?"
Lafayette Reynolds: "Oh, don't get it twisted honey cone. I'm a survivor first, capitalist second and a whole bunch of shit after that. But a hooker, dead last! So if I've got even a Jew at an Al Qaida pep rally's shot at getting my black ass up out of this motherfucker, I'm taking it!"
Cast
[
]
Starring

[

]

Recurring

[

]

Guest starring

[

]

Special guest starring

[

]

Co-starring

[

]

Preston Jones

as

Dirk

Leslie Stevens

as saleswoman

Jennifer Hamilton

as

Dancer #1

Brandon Henschel

as

Dancer #2

Uncredited

[

]

Daria Badanina

as

Christian singer on bus

Jason Castle

as

Church goer

Rosemary Garris

as

Bargirl

Adrienne McQueen

as

Christian cult member

Matthew L. Sobel

as

Dirty dancer
Gallery
[
]
Images
[
]
Video
[
]
Trading Cards
[
]
Episode B1
[
]
Episode Ratings
[
]
Episode #
Episode Title
Viewers (in millions)
#2.02 (14)
"

Keep This Party Going

"
3.41