Spider-Man: No Way Home Trailer Dropped - The Loop
Play Sound
Date of birth
December 28, 1976
Date of death
{{{dateofdeath}}}
Place of birth
Pittsburgh, Pennsylvania, USA
Place of death
{{{deathplace}}}
[{{{website}}} Official Site]
[{{{facebook}}} Facebook]
[{{{myspace}}} Myspace]
[{{{twitter}}} Twitter]
[[:Category:{{{Images}}}|Images]]
Joe Manganiello, born December 28, 1976 in Pittsburgh, Pennsylvania, is an American actor who plays the role of Alcide Herveaux on the HBO original series True Blood. Making his debut on the episode "It Hurts Me Too" in the series' third season, Joe is a starring actor who plays a recurring role through the series' third, fourth, fifth, sixth and seventh seasons. Owning a construction company with his father, Jackson Herveaux in their hometown of Jackson, Mississippi, Joe plays the role of a werewolf packmaster who was one of series' protagonist Sookie Stackhouse's main love interests, until his untimely demise on the episode "Fire in the Hole" in the series' seventh, and final, season.
Biography
[
]
Manganiello was born in Pittsburgh, Pennsylvania, and raised in Mt. Lebanon, a suburb south of the city. His parents are Charles and Susan Manganiello. Manganiello is of Italian American descent, and has a younger brother. He was a student at St. Bernard School, a Catholic elementary school in Mt. Lebanon, and then attended Mt. Lebanon High School, where he graduated in 1995. He grew up playing football, basketball, and volleyball, and played varsity football in high school, and was the captain of his basketball and volleyball teams. Manganiello won the role of Jud Fry in his school's production of Oklahoma!, and was involved with the school's TV studio. On weekends, he would borrow equipment to make movies with his friends, and became interested in acting to become a better amateur filmmaker.
After getting injured in football, Manganiello auditioned for the Carnegie Mellon School of Drama as a senior in high school. He wasn't accepted, so enrolled at the University of Pittsburgh and worked at doing theatre. Manganiello re-applied to Carnegie Mellon a year later, and was one of 17 students accepted into the acting program. He performed in theatre productions and wrote, produced and acted in the student film Out of Courage 2. Manganiello graduated in 2000 with a BFA in acting. Manganiello studied all styles of classical theatre while he was there. Manganiello traveled to New York and Los Angeles through his university to participate in group auditions, which provided him contacts in the entertainment business.
As of 2010, Manganiello lives in Los Angeles, California. He is a supporter of Until There's a Cure, a charity dedicated to fighting HIV/AIDS, and appears in public service announcements for the organization. Manganiello is a fan of the Pittsburgh Steelers and produced and directed the 2007 short documentary "DieHardz", about Steelers fans that meet at a bar in Los Angeles.
Film/Television
[
]
Manganiello moved to Los Angeles after graduating from Carnegie Mellon. He quickly signed with a talent agent, and 3 days later, auditioned for the role of Peter Parker in the Sam Raimi-directed film, Spider-Man (2002). Manganiello landed the role of Eugene "Flash" Thompson, Peter Parker's nemesis, playing opposite Tobey Maguire, Kirsten Dunst, James Franco, and Willem Dafoe, as his first acting job out of college. He reprises the role several years later, making a brief cameo at the end of Spider-Man 3 (2007).
Manganiello began finding work in television, playing Tori Spelling's boyfriend on VH1's So Notorious in 2006, and guest starred on Las Vegas, Jake in Progress and Close To Home that year. In 2007, he appeared in "My No Good Reason", a Zach Braff-directed episode of the NBC series Scrubs, and in the MyNetwork TV nighttime soap opera American Heiress. He also played Officer Litchman, the love interest to Linda Cardellini's character, for a 4 episode arc on NBC's ER.
Manganiello played Brad, the law school buddy of Jason Segel's character Marshall Eriksen, on several seasons of the CBS comedy How I Met Your Mother. In 2008, he joined the cast of The CW drama One Tree Hill for its the fifth season, playing bartender Owen Morello, Sophia Bush's love interest. Manganiello shot the series in Wilmington, North Carolina, and returned for its sixth and seventh seasons. He played Stu on the Fox sitcom 'Til Death for two episodes, and starred in the short film "Wounded" that year, written by Gloria Calderon Kellett, which he first originated on the stage.
He starred in the direct-to-video war film Behind Enemy Lines: Colombia in 2009, alongside WWE professional wrestler Ken Kennedy. Manganiello played Lt. Sean Macklin, a Navy SEALs squad leader. The Fox Home Entertainment film was shot in Puerto Rico. Manganiello appeared in Medium in 2009, and has guest starred on all three series of CBS's CSI television franchise: CSI: Crime Scene Investigation, CSI: Miami, and CSI: NY. He had a role in the independent film Irene in Time, written and directed by Henry Jaglom.
In 2010, Manganiello appeared in television commercials for Taco Bell promoting its new product, the Tortada. He shot television pilots for 100 Questions and the Pittsburgh-set sitcom Livin' on a Prayer, written in part by How I Met Your Mother writer and fellow CMU alum, Kourtney Kang.
Manganiello plays the role of werewolf Alcide Herveaux in season 3 of HBO's True Blood. He arrived on the series as a bodyguard, hired by Eric Northman (Alexander Skarsgard) for Sookie Stackhouse (Anna Paquin), when her romantic companion, vampire Bill Compton (Stephen Moyer), goes missing. Manganiello described the character's relationship to the Pittsburgh Post-Gazette as "a love square" between his character, Stackhouse, Northman, and Compton. Manganiello was a fan of the series when he was cast. He grew a beard and trained for five months to add muscle for the role. Author Charlaine Harris had described Alcide as having "arms the size of boulders". He also got a sun tan to set himself apart from the other characters on the series.
Theatre
[
]
As a student at Carnegie Mellon University, Manganiello appeared as Lorenzo in The Merchant of Venice at the Quantum Theatre and played Joe in Starlight Productions' The Last Night of Ballyhoo. He played "The Chick Magnet" in May 2007 at the New York City premiere of Skirts & Flirts, a monologue by Gloria Calderon Kellett, which was a finalist for HBO's Aspen Comedy Festival. He played Stanley Kowalski in A Streetcar Named Desire for the West Virginia Public Theatre in 2008, directed by his former Carnegie Mellon professor Geoffrey Hitch.
Manganiello starred in the west coast premiere of Terrence McNally's Unusual Acts of Devotion in June 2009, alongside Doris Roberts, Richard Thomas, Harriet Harris and Maria Dizzia. He starred as Leo Belraggio, a New York jazz musician. The play was directed by Trip Cullman at the La Jolla Playhouse at the University of California in San Diego. Manganiello worked with the esteemed playwright at creating his role in 2008 at the Ojai Playwrights Conference.
Personal Life
[
]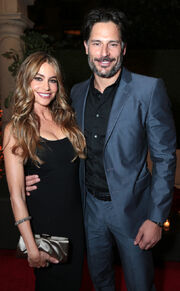 In July 2014, Manganiello began dating Modern Family star Sofia Vergara. The couple became engaged on Christmas Day 2014 after six months of dating. The couple were married on November 22, 2015.
Filmography
[
]
Film
[
]
Rampage (2018)
Justice League (2017)
Pee-Wee's Big Holiday (2016)
Magic Mike XXL (2015)
Magic Mike (2012)
Spider-man 3 (2007)
Spider-man (2002)
Television
[
]
True Blood (2010-2014)
How I Met Your Mother (2006-2012)
One Tree Hill (2008-20010)
Til Death (2008-2010)
ER (2007)
Scrubs (2007)
Gallery
[
]
Images
[
]
| | |
| --- | --- |
| | There is an image gallery for |
True Blood Accolades

[

]
NewNextNow gave Joe Manganiello the ''Cause You're Hot Award' (season 3)
Won the Saturn Award for Best Guest Starring Role in Television (season 3)
Won the Scream Award for Best Breakout Performance – Male (season 3)
External Links
[
]
Appearances
[
]