Wiki Targeted (Entertainment)
Play Sound
"It Hurts Me Too" is the third episode of Season 3 of the HBO original series True Blood, and the series' twenty-seventh episode overall.
Summary
[
]
In search of Bill, Sookie heads to Jackson, Mississippi in the company of Alcide, a werewolf bodyguard assigned by Eric to protect her. Jason is distracted from his police exams; Bud reaches the end of his rope; Arlene copes with unexpected news; Franklin charms Tara, and gets Jessica out of a jam; Eric bequeaths a gift to Lafayette. Haunted by visions from his past, Bill makes a surprising pledge of allegiance.
Synopsis
[
]
"You've won.
You've deprived me of my freedom. My home. My humanity.
But I will never, ever love you."
― Bill Compton, to Lorena Krasiki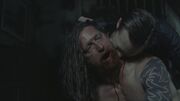 A werewolf named Johnson in wolf form stalks across Sookie's living room, baring its teeth as she raises a revolver and fires. Before the bullet can strike the werewolf, Eric leaps into its path at vampire speed, taking the bullet to his chest to preserve the beast for interrogation. As soon as the werewolf sees Eric`s wound, it shifts into a man who scrambles to get a taste of the vampire blood. Even wounded Eric subdues the attacker, though he soon gives in to his own rage and bites savagely into the man's neck - but not before Sookie hears him think about "Jackson".
They bury the werewolf in a fresh grave at the Bon Temps Cemetery, and Sookie makes plans to go to Jackson, Mississippi to search for Bill. Eric tells her a rescue mission would be suicide and asks her to stay out of trouble.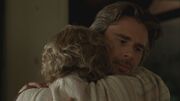 At Russell's mansion, Bill watches as Lorena begins to heal from the severe burns he inflicted on her. Russell, ignoring Talbot's grief over his damaged antiques, sends Lorena away so he can speak with Bill. The king informs the younger vampire that Lorena wants Sookie to die. In fact, the only way Bill can save her is by joining forces with Russell.
Tara and the mysterious vampire Franklin Mott have mind-blowing sex in a seedy motel room. Afterward, Tara leaves without giving her name, knowing that she's way too messed up to get involved with anyone, let alone a vampire. The next day, Mike calls Tara to let her know that Eggs' funeral is about to take place. When Tara arrives, the only other person attending is Sookie, who paid for the arrangements. The two women reconnect as a minister begins the ceremony.
Sam returns to his parents' house, not mentioning that his little brother Tommy just tried to get him killed on the highway, and explains that he's heading back to Bon Temps, Louisiana. His mother Melinda fawns over him, but he sidesteps the attention as best he can, casting Tommy a meaningful look on his way out the door. That night, Sam sees Sookie at work - and notices her engagement ring. She explains that she's leaving town for a few days to find Bill and asks him to look after Jessica, since she's all alone. Knowing he can't talk Sookie out of anything, Sam agrees.
In light of his performance at the meth bust, Jason decides he wants to become a police officer. To pass the written test for the job, he has Hoyt quiz him, but the preparation isn't going well. Hoyt is also having trouble concentrating as his mind is focused squarely on Jessica.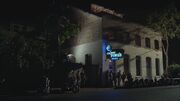 In a doctor's office, Arlene undergoes an ultrasound given by Dr. Robideaux proving the suspicion that she's pregnant. Unfortunately, the size of the baby also proves that the father is Rene. Later at work, Arlene tries to broach the topic with Terry, and as soon as she says she's pregnant, he's overjoyed - so much so that she can't bear to tell him the truth.
While "working" on the road crew, Jason falls asleep in his truck and has an anxious nightmare about taking his test. Even worse, he wakes up to Hoyt's screams after his friend finds a headless body in the ditch they're digging. They call the police, and when Sheriff Dearborne arrives, he's so fed up with the constant murders he quits his job on the spot. After work, Jason heads over to Merlotte's where he offers his support to Tara, wishing he could just come clean about his responsibility for Eggs' death.
As Bill sleeps through the day at Russell's mansion, he dreams of the last time he saw his wife, Caroline, three years after Lorena turned him into a vampire. At first she's glad to see him, but when he sees that his son Thomas has died of smallpox and begins to weep tears of blood, Caroline is horrified. As she screams at him, Lorena walks through the door, telling Bill that he has no choice but to glamour his wife so she never remembers seeing him. Later, as Bill buries his son, Lorena tells him, "The only way to show your love for a human is to stay away. Forever."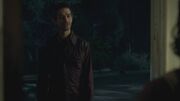 Sam's birth family surprises him by showing up at Merlotte's, and when he tries to cover his dismay by buying them all lunch, a free meal quickly turns into a monstrous bar tab. When Sam steps in to stop Tommy from drinking underage, a liquored-up Joe Lee gets in his face. Sam gently kicks them all out, but later that night, when his security alarm goes off, he finds a pit bull rifling through his office...until it shifts into a bird and flies out the window.
Eric visits Lafayette to bestow his "top salesman" with a gift: a brand-new Ferrari. Eric explains that Lafayette could become a very rich man selling V, but the cook/road crewman/drug dealer refuses to get further involved with Eric's enterprise. Smiling, Eric urges him to think about it and then flies away.
Sookie continues the never-ending job of cleaning her wrecked house when a large bearded man appears, frightening her until he explains that Eric sent him to protect her. He introduces himself as Alcide Herveaux and explains over tea that a dangerous gang of werewolves has taken root in Jackson, and his girlfriend recently left him for its leader.
Alcide brings Sookie back to Jackson and takes her to the werewolf bar Lou Pine's, where she manages to pick up a lead from the thoughts of a biker named Gus. But when Gus tries to force himself on Sookie, Alcide has to jump in and rescue her.
Franklin stops by and Jessica tries to unsuccessfully intimidate him. She refuses to tell him anything but then he reaches into a bag and pulls out the head of the man she fed on. He then demands she tell him everything about Bill. Later he stops by Tara's house and glamours his way inside.
At Russell's mansion Cooter reports to the king that his men were unable to abduct Sookie. As Russell begins to lose his temper, Bill interrupts, explaining that he's decided to take the king up on his offer and pledge his support to Mississippi. Russell is thrilled (and calls off the hunt for Sookie), but Lorena seethes that she won't get her pound of flesh. Afterward, upstairs, Bill explains to Lorena that she's taught him for a second time that humans have no place in a vampire's existence, and he swears that he'll never love her.
She kisses him furiously and he responds, taking her on the bed with rage-filled passion. As they have sex, he viciously snaps her neck, twisting her head a gruesome 180 degrees as he releases an agonized wail.
Trailer
[
]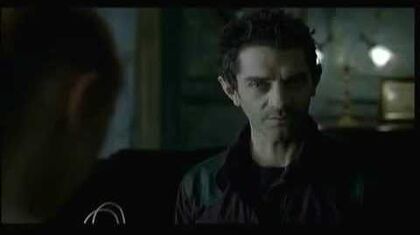 Notes
[
]
Accolades
[
]
The Scream Awards named the sex scene between Bill and Lorena the Holy Sh*t! Scene of the Year.
The episode was nominated for an Emmy Award for Outstanding Art Direction for a Single-Camera Series.
Alexander Woo was nominated for an NAACP Image Award for Outstanding Writer in a Drama Series.
Allusions
[
]
The "track record" that Tara is referring to is from the prior season when she allowed Maryann Forrester to move into Sookie's house and host a variety of orgiastic parties which resulted in the house getting trashed.
Bloopers and Continuity Errors
[
]
When Jason is talking to Tara at the bar, the level of beer in Jason's mug fluctuates between camera shots.
When Arlene is having an ultrasound, you can see the date/time on the monitor as '26DEC2008 23:10', while the procedure is clearly taking place during the day, and not during the winter or holiday seasons.
Continuity
[
]
There are no continuity notes for this episode.
Flashbacks
[
]
The flashback takes us to the 1860s when the Vampire Bill returns home to his estranged wife.
Miscredits
[
]
There are no miscredits that occur in this episode.
Music
[
]
"Classically Inclined" - Eduardo Ponsdomenech
"Same Old" - The Roadhawgs
"Coming Down" - Acumen Nation
"One of Them Days" - Jesse Dayton
"Dry Your Tears" - James Clarke
"Howlin' for My Baby" - M. Ward
"Wild One" - Those Darlin's
"Two Many Days" - Judy Fields
"Spoonful" - Howlin' Wolf
"Ain't No Invisible Man" - Jakob Dylan
"It Hurts Me Too" - Gaye Adegbalola
Production
[
]
There are no production notes available for this episode.
Title
[
]
There are no notes on the title based on this episode.
Trivia
[
]
There are three puns/gags in the werewolf bar: There are wolf pictures and paintings on the walls, the song playing is by Howlin' Wolf, and the bar's name is "Lou Pine's" ("lupine" means pertaining to or resembling a wolf).
Memorable Quotes
[
]
Alcide Herveaux: (thoughts) "That must be her. He said blond and pretty. No wonder the girl's a magnet for trouble."
Bud Dearborne:
"Forty-three years and what have I got to show for it? Gaps in my brain and polyps in my ass!"
"I've had it with this s--t. Every time we clear one murder, two more spring up. It's like crab grass."
Eric Northman: "Hello, sweetheart."
Jason Stackhouse:
(blowing off the answer to the blood alcohol limit): "I don't need to know it. 'Cause if it's on the sample test it's not on the real thing. Everybody knows that."
"I've heard every breakup excuse from 'You're a sum'bitch, Stackhouse to 'You're a fucking asshole, Jason.' And you know what? They're all saying the same thing. They can't handle the heat you're packing."
Joe Lee Mickens: (to Sam) "Don't ever get married, Sam. The second you do, that's when they start to woman ya."
Pamela Swynford de Beaufort: (to Yvetta, the new Fangtasia dancer) "Lie back, sweetheart, and think of Estonia."
Russell Edgington:
"It's like Armageddon in here anytime someone chips a dessert glass."
"This may be difficult for a Louisianan to understand, but, in the kingdom of Mississippi, our appetite for unprovoked violence is nil."
Talbot Angelis: "Zima, correct?"
Terry Bellefleur: "'It's not you, it's me.' If I had a nickel for every time — I'd have 15 cents."
Memorable Dialogue
[
]
Tara Thornton: (after he refuses to bite her) "Why not?"
Franklin Mott: "Because you want me to."
Franklin Mott: Mind if I, uh, come in?"
Tara Thornton: "Hell no. I got a terrible track record with letting people into this house."
Eric Northman: "Well, it would've healed a lot faster if you had…"
Sookie Stackhouse: "I will never fall for that again."
Eric Northman: "Maybe the next time you shoot me."
Sookie Stackhouse: "I don't expect you to understand."
Eric Northman: "I understand very well."
Sookie Stackhouse: "If I do get into some kind of trouble, you'll feel it, right?" (Eric nods.)
Jessica Hamby: "Hey, vampires can't enter a home without an invitation."
Franklin Mott: "Uh, human home and the last human owner of this house died a year ago."
Jessica Hamby: "F--k. How come nobody tells me any of this?"
Werewolf in Sookie's house: "If I tell you, I'm as dead as you are. Might as well kill me now."
Eric Northman: "As you wish."
Hoyt Fortenberry: "The legal blood alcohol limit in the state of Louisiana is…"
Jason Stackhouse: "When you're drunk?"
Talbot Angelis: "They're all dumber than a box of rocks."
Cooter: "Sir, that's unfair."
Talbot Angelis: "To boxes, maybe. Or rocks."
Cast
[
]
Starring

[

]

Recurring

[

]

Co-starring

[

]

Guest starring

[

]

Special guest starring

[

]

Uncredited

[

]
Gallery
[
]
Images
[
]
Video
[
]
Trading Cards
[
]
Episode B1
[
]
Episode Ratings
[
]
Episode #
Episode Title
Viewers (in millions)
#3.03 (27)
"

It Hurts Me Too

"
4.46