Wiki Targeted (Entertainment)
Play Sound
"I Got a Right to Sing the Blues" is the sixth episode of Season 3 of the HBO original series True Blood, and the series' thirtieth episode overall.
Summary
[
]
Spurned by Eric, Sookie fears the worst for Bill, whose fate now lies in Lorena's hands; fueled by a night of bloody passion, Tara executes a desperate plan to stave off Franklin's advances; in Bon Temps, Tommy finds it difficult to leave the family nest; Jessica puts Pam's teachings into practice; Jason's romance with Crystal hits a snag, as does Lafayette's with Jesus; after revealing his master plan to Eric, Russell visits Louisiana to put it into action.
Synopsis
[
]
"Do you remember how the air used to smell?
How the humans used to smell?
How the humans used to taste?"
― Russell Edgington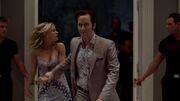 Sookie and Bill are forcibly dragged back to Russell's mansion.
Eric and Lorena are there to greet Russell and crew at the door. Eric is unwilling to help Sookie, as he has other things brewing now that he knows Russell killed his family. He pulls Sookie off into another room after Bill is sent to slave quarters to be killed by Lorena. Lorena is not happy about that order, of course.
Now it's time for Russell to interrogate the mysterious Sookie. She is adorably clueless and frightened in this scene, "Are you the king of all vampires?" Russell is slightly amused by her ignorance. He also seems to relish telling her that Bill has been keeping a secret file on her. He wants to know what she is, but she doesn't know herself. "Maybe I'm an alien!" We do learn, however, that her grandfather was also telepathic.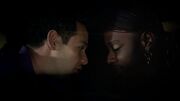 Meanwhile, Tara is trying to play Franklin so she can escape. Time is running out, as he plans on turning her into a vampire soon. So, she seduces him and bites him to gain strength. It's pretty heinous, but he's into it, of course.
Back in Bon Temps, Sam is still trying to figure out what is going on with the Mickens family. He is concerned about Tommy, which prompts their mother, Melinda to tell Tommy, "Sam may be blood, but he ain't family." It seems that the family has been making money by shifting into dogs and fighting in the ring for money. Tommy's mom used to do it but can't anymore and now Tommy is being relied on for it. That's where he gets the scars. Sam eventually figures it out and heads off to save Tommy.
At Merlotte's, Jessica accidentally shows her fangs to Arlene, which makes Arlene's vampophobia even worse. Jessica comes to the rescue, however, when a rude customer named Peach refuses to finish up her meal at closing time. Jessica glamours her into leaving, giving Arlene a huge tip and excusing herself to the ladies' room - where Jessica feeds off her. Arlene doesn't see Jessica feed, but she definitely suspects something and is spooked.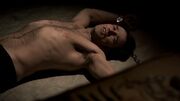 Lafayette continues his date with Jesus, going parking with the handsome nurse. He's hesitant to get close to Jesus, but decides they can relate when he finds out Jesus was raised by a single mother. They have a nice make-out session and get close to sealing the deal at Lafayette's house when rednecks from Hotshot show up and trash Lafayette's new sports car. This is all about the V Lafayette wants them to sell for him. When Jesus hears all this, he's out, as he does not want to get involved with a drug dealer.
Meanwhile, Jason is still having fun with Crystal at the lake. She's a bit odd, but it seems to be from her strange upbringing in Hotshot. She's a bit naive about things and just wants to enjoy Jason for the night. However, their lakeside tryst is cut short when Crystal hears (sniffs?) something in the woods and runs off.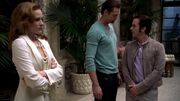 Later, Jason shows up in Hotshot with flowers for Crystal. One of the rednecks who was pounded by Lafayette opens the door and turns out to be Crystal's fiancée, Felton Norris. She tells him she's never seen Jason before in her life, but it clearly pains her to say that.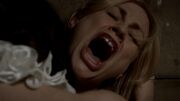 In New Orleans, Queen Sophie Anne is busy scratching lottery tickets in her mansion. Probably won't end her money woes, but "mama's feeling lucky." In comes Russell, who has just killed Sophie's guards. He proposes marriage to her again and she refuses, only to be strong-armed by both him and Eric. Eric carries Sophie off for Russell as she calls out for her beloved Hadley.
Back at Russell's mansion, Tara now has Franklin's blood in her and she makes her escape, but not without bashing Franklin's head in with a mace first. She runs out of the room and heads over to save Sookie from another bedroom. The two fight their way out, but Sookie needs to stop off at the slave quarters for Bill first.
While Tara looks around the yard for a way out, she runs into a white wolf. She shrieks, but it is merely Alcide. He's here to save the day. Tara asks him if he has a car and he says yes. In the slave quarters, Sookie finds Bill barely alive, as he has been tortured by a sobbing Lorena. When Sookie is about to free him, Lorena goes for Sookie's jugular. The last thing we see is Sookie screaming.
Trailer
[
]
Notes
[
]
Accolades
[
]
This episode currently hasn't received any awards.
Allusions
[
]
"Without that sanctimonious little prick Godric to save you, I would just love to rip you open and wear your ribcage as a hat." is a reference to Buffy the Vampire Slayer when Buffy threatens to rip out someone's ribcage and wear it as a hat if he didn't give her the information she needed.
Bloopers and Continuity Errors
[
]
There are no bloopers that occur in this episode.
Continuity
[
]
There are no continuity notes for this episode.
Flashbacks
[
]
There are no flashbacks that occur in this episode.
Miscredits
[
]
There are no miscredits that occur in this episode.
Music
[
]
"Honky Tonk Baby" - Jim Pendergrast
"La Belle Et la Bad Boy" - MC Solaar
"I Gotta Right to Sing the Blues" - Billie Holiday
"Youkali Tango" - Teresa Stratas
"Brahms: 2 Rhapsodies, Op. 79: Rhapsody No. 2 in G Minor" - Naxos/SourceQ
"Bizness Changes" - Art Lilliards Heavenly Band
"Over the Moon" - Jonny Savarino
"Sixty Days on the Road" - Bosshouse Music
"Lorena's Theme" - Nathan Barr, sung by Lisbeth Scott
"Double Shot of You" - eBlues Highway
"Oh My My" - Michael Mazochi
"Hells Bells" - Cary Ann Hearst
Production
[
]
There are no production notes available for this episode.
Title
[
]
There are no notes on the title based on this episode.
Trivia
[
]
This episode's title was changed from "What Do You Know About Love" to "I Got a Right to Sing the Blues" during production.
When Sookie says that she must save Bill, Tara calls her "a fucking idiot." This stands in contrast to the previous season where Tara wants to save Eggs from Maryann's clutches and Sookie calls Tara "a fucking idiot."
Memorable Quotes
[
]
Arlene Fowler: "Please don't kill me, I'm pregnant. (gasps) That probably just makes you want to eat me even more."
Bill Compton:
"I wish I had known you before you were made. Before you turned hard. I would have liked to see you smile with light in your eyes, instead of darkness. That would have been something."
(taunting Lorena) "What will you do then? Find another man that you deem honorable so that you can turn him into a violent, hateful thing like yourself? Destroying whatever it was you loved about him to begin with?"
Eric Northman:
"Please don't take this wrong way Sookie, but shut up."
(threatening Sophie-Anne) "I will rip your head off and throw it in the pool, and I will have fun doing it!"
Franklin Mott: "You have no idea what awaits you on the other side, my beautiful bride. No more pain. No more fear. No more...rules."
Lorena Krasiki:
"Without that sanctimonious little prick Godric to save you, I would just love to rip you open and wear your ribcage as a hat."
(denying herself to Bill) "I am not István!"
(to Bill) "YOU NEVER EMBRACED OUR NATURE!"
Melinda Mickens: "You can't trust Sam. He may be blood, but he ain't family. And he ain't never gonna be. He looks down on us, thinks he's better than us."
Russell Edgington:
(about Bill) "Well, guess who turned out to be completely unworthy of our trust?"
(to Sookie) "Honey, there's a fine line between feisty and delusional."
"He's been her drug of choice for centuries now."
(explaining his political ambitions) "If all the supernaturals would stop squabbling among themselves and unite, we could conquer humans in a matter of days."
"Do you remember how the air used to smell? How the humans used to smell? How the humans used to taste?"
Sookie Stackhouse:
(telling Russell about her other mysterious power) "Once, I threw a chain at someone and it wrapped itself around his face, like that face-crab thing from Alien."
Sophie-Anne Leclerq:
" They have no dominion over me, I'm a Queen!"
"Hadley! I want my HADLEY!"
Memorable Dialogue
[
]
Sookie Stackhouse: "What the hell are you doing?"
Tara Thornton: "Killing vampires and saving your ass. I'll fill you in later, now let's get the hell out of here."
Cast
[
]
Starring

[

]

Recurring

[

]

Guest starring

[

]

Special guest starring

[

]

Co-starring

[

]

Uncredited

[

]
Gallery
[
]
Images
[
]
Video
[
]
Trading Cards
[
]
Episode B1
[
]
Episode Ratings
[
]
Episode #
Episode Title
Viewers (in millions)
#3.06 (30)
"

I Got a Right to Sing the Blues

"
4.74