Wiki Targeted (Entertainment)
Play Sound
"I Don't Wanna Know" is the tenth episode of Season 1 of the HBO original series True Blood, and the series' tenth episode overall.
Summary
[
]
Caught in a compromising position, Sam shares a secret with an incredulous Sookie. Thinking she's been purged of her demon, Tara celebrates with Lettie Mae - but goes off the deep end when she uncovers Miss Jeanette's true intentions. Sookie has a disturbing revelation during Arlene and René's engagement party at Merlotte's. Jason and Amy debate what to do with Eddie. Tara speeds into a bizarre roadside encounter that lands her in jail. At a vampire tribunal to decide his fate, Bill faces a harsh penalty for his offense, but the Magister decides on a more creative sentence involving a human teen named Jessica.
Synopsis
[
]
"I'm a good girl.
Jesus will take me home to heaven."
― Jessica Hamby
Sookie shoots out of bed, starts panicking and accuses Sam of being the murderer of her gran, Adele, all the while Sam is still naked. All is cleared up once Sam gets the opportunity to let Sookie know that he is not a murderer, but is a shapeshifter. Turns out that Sam used the dog that hangs out at Merlotte's as a figure to shift into so that he could protect Sookie.
Tara still searches for a way to obtain $800 for the exorcism from Miss Jeanette and Sam gives her the money so that she could be rid of the demon that was supposedly inside of her. This "exorcism" involves fire roasted spit from Miss Jeanette's mouth being rubbed around Tara's eyes because that's the place demons enter. Miss Jeanette also has her drink a liquid that she called "snake juice" that would remove the demon from her belly.
At Jason's house, Jason and his girlfriend, Amy, have Eddie tied up. They have kidnapped him so they can have copious amounts of V at any given time. As Amy proceeds to drain the vampire, she stumbles upon a bottle of Tru Blood that Jason had given to Eddie when he was weak. Eddie tries to explain this to her, but she goes off on Jason with a tangent about trust.
Later, Sookie and Sam sit on the porch of Bill's estate so that they can discuss Sam's shapeshifting capabilities. Sookie gets annoyed that Sam didn't confide in her and then she compares Sam to a werewolf. Sam angrily counters that he doesn't want to be associated with those creatures, indicating that werewolves also exist.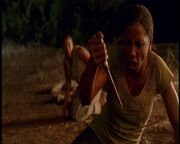 Meanwhile, Tara's exorcism continues. She becomes sick and throws up her demon, according to Miss Jeanette. She looks over and sees herself as a child. Miss Jeanette exclaims that it is Tara's demon and she has to kill it. Tara walks over and stabs her childhood self. She looks down to see the knife covered in blood, frightened.
The very next morning, Tara is all smiles when she gets to her post-alcoholic mother's house to tell her about the exorcism she just got, feeling as though she too has been saved. They decide to go celebrate by going to the town over to buy a bucket of craw fish which leads to Lettie Mae getting an upset stomach. Tara pulls over at De Soto Pharmacy to pick up some "Pepto". Once inside she asks a sales lady who was stocking shelves where she could find it. Tara instantly recognizes the lady as Miss Jeanette.
Furious, Tara calls her a thief and a liar (after she ripped off her wig and found out the snake juice was ipecac and peyote). Miss Jeanette responds that she has children to feed and look after. Tara is very upset to learn that she was conned. She fears that her mom will return to drinking. Miss Jeanette tells her not to tell her mom because if she believed that she was healed, sometimes faith is the best medicine.
As Bill awaits his trial for staking Longshadow, he watches a fellow vampire get his fangs ripped out with pliers for feeding on another vampire's 'pet' human. The usual sentencing for Bill's crime is five years chained in silver inside a coffin. This results in a vampire turning into leather and sticks and more than likely going insane. But, after hearing out Eric's side of things, the Magister decides to be creative in Bill's sentencing, owing to the circumstances of Longshadow's death.
Jason and Amy are about to leave for Arlene and René's engagement party at Merlotte's, but before they do Eddie informs Jason, again, that Amy is a psychopath and he should not trust her. At this point Amy had convinced Jason that they would keep Eddie alive and turn him into their pet. Jason believed her and didn't think that she was scheming against him.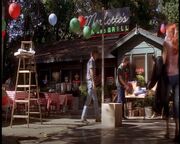 Once at the party, everything starts to breakdown. Jason asks advice on how to get the upper-hand back with Amy. Sookie and Sam are still arguing. Lafayette shows up at the exact moment as Jason is peeing in the woods. Lafayette lets Jason know that he is heading down the wrong path, and that he better not drag Lafayette along. Then, Tara shows up drunk in her prom dress trying to get action from Sam, but he refuses, upset over recent events.
Later, Sookie goes inside Merlotte's to get more ice, when the lights shut off. Suddenly, Sookie begins seeing snarled visions of a woman being strangled, and is then attacked by an unknown assailant, though Sookie quickly realizes this must be the murderer. After being chased through the kitchen of Merlotte's, Sookie runs to the front door and into the arms of Sam, terrified.
Tara, spurned by Sam, speeds down the road as she drinks a bottle of liquor. Suddenly, a naked woman and a pig appear in the middle of the road and Tara swerves out of the way, crashing her car through a fence.
After the party, Jason and Amy return home to their locked up vampire, arguing because Jason wants to release him. As Jason tries to untie him, Amy jumps in and with a wooden stake and stabs Eddie, killing him as blood splatters everywhere.
Since Bill killed a vampire, he is to replenish their numbers, by turning a human into a vampire, something that he has never done. A young frightened human girl, Jessica Hamby, is brought before him. Bill tries to glamour her to ease her suffering, but the Magister informs him that glamouring is not permitted. Saddened by what he must do next, Bill asks for forgiveness as he bites into Jessica's neck, as the other vampires look on intently.
Trailer
[
]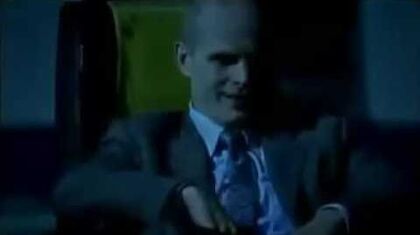 Notes
[
]
Accolades
[
]
This episode currently hasn't received any awards.
Allusions
[
]
This episode does not contain any allusions.
Bloopers and Continuity Errors
[
]
Lafayette swears on his "mama's grave" that he won't be the next one to die because of Jason's errant behavior. This implies that his mother is dead; however, in Season 3, we learn that his mother is very much alive albeit very senile. This might not be a continuity error, it could simply be that Lafayette was ashamed of his mother and pretended that she was dead. (Or it was simply just a saying that some rely upon to hammer home a point.)
Continuity
[
]
There are no continuity notes for this episode.
Flashbacks
[
]
Sam flashes back to being a young boy and shifting into a Beagle.
Sookie has a flashback of Cindy Marshall's memories of being murdered.
Miscredits
[
]
There are no miscredits that occur in this episode.
Music
[
]
"You Can't Be a Beacon (If Your Light Won't Shine)" - Donna Fargo
"Jesus Rhapsody, Part 1" - Preacher & the Saints
"Summer Memories" - John Mazzei
"Hallowed Ground" - I See Hawks in L.A.
"I Don't Wanna Know" - Dr. John
"Maison Creole" - C. C. Adcock & the Lafayette Marquis
"Bleed to Feed" - C. C. Adcock & the Lafayette Marquis
"I'm Just a Fool to Care" - C. C. Adcock & the Lafayette Marquis
"I'm Ready" - C. C. Adcock & the Lafayette Marquis
"Let's Talk It Over" - C. C. Adcock & the Lafayette Marquis
Production
[
]
There are no production notes available for this episode.
Title
[
]
The title song may be an indirect implication of the general feeling of autistic denial and regression that runs in the whole course of the episode with Jason trusting Amy or with Tara doing a fake exorcism. It could also be a Jessica reference that begs Bill not to kill her.
Trivia
[
]
Memorable Quotes
[
]
Amy Burley: "I am an organic vegan and my carbon footprint is miniscule."
Magister Jorge Alonso de San Diego:
"The usual sentence is five years in a coffin, chained with silver. During which time your body will waste to leather and sticks. You'll probably go insane. However, I'm feeling a bit... creative."
(to the vampire getting his fangs ripped out) "The other Louisa... From the root."
Sam Merlotte: "I need a live animal in order to shift. You know, as a model. Kinda like an imprint."
Sookie Stackhouse: (to Sam, after revealing his shapeshifter identity) "Shut the fuck up!"
Memorable Dialogue
[
]
Cast
[
]
Starring

[

]

Recurring

[

]

Co-starring

[

]

Kimberly Atkinson

as Luisa

C. C. Adcock

as

Band member

Jason Burns

as

Band member

Nick Curran

as

Band member

Chris Hunter

as

Band member

Jude Taylor

as

Band member

Guest starring

[

]

Special guest starring

[

]

Judy Prescott

as

Sam's mother

Uncredited

[

]

Brooke Bickford

as

High-end vampire

Robert Dill

as

Skinhead vampire

Matt Leonard

as

Enforcer 1

Kelly Nienaltowski

as

Arlene's friend
Gallery
[
]
Images
[
]
Video
[
]
Trading Cards
[
]
Episode B1
[
]
Episode Ratings
[
]
Episode #
Episode Title
Viewers (in millions)
#1.10 (10)
"

I Don't Wanna Know

"
2.47