"I'm Alive and on Fire" is the fourth episode of Season 4 of the HBO original series True Blood, and the series' fortieth episode overall.
Alcide helps Sookie hunt for Eric; Marnie searches for guidance to break a spell; Bill discovers a common bond with the Bellefleurs; Jason begs for liberation from Hotshot; Sam penetrates Luna's inner circle; Arlene sees the writing on the wall; Tommy returns to his roots.
"Fix My Maker!"
― Pamela Swynford de Beaufort, to Marnie Stonebrook
Eric flirts with Sookie after draining all of fairy Claudine's blood. He pinches Sookies' butt and darts around at vampire speed, wanting to play catch. When she refuses he disappears into the night. Later, Alcide comes by Sookie's home and shifts into his werewolf form to track Eric.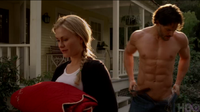 He finds Eric in a nearby swamp. Eric is enjoying his time in the daylight and doesn't want to come back. He is threatened by the sight of Alcide and bares his fangs. As the fairy blood wears off, Eric's flesh smolders in the sunlight. Sookie makes him get out of the water. She puts a blanket around him and returns him to the house.
Becky frees Jason when he convinces her that she should wait to lose her virginity. Jason escapes, knocking out Luther. Later Felton and Crystal find Luther tied up.
Angry, Felton shifts into his werepanther form with Timbo and Crystal on his heels. The three chase Jason. Jason manages to kill Felton with a sharpened stick. Crystal kicks Felton's corpse and vows that she and Jason are mated for life. She says that his place is now in Hotshot as the father of the clan. He runs away, with Crystal still proclaiming her love for him.
Bill questions Pam about Eric's whereabouts, but she tells him she knows nothing. Later, Nan Flanagan pays a visit to Bill, and she expresses her anger towards him for making Eric go near wiccans. She forces him to take care of the situation personally.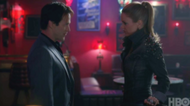 Marnie has a dream about a Spanish witch being burnt at the stake during the Inquisition. She wakes tormented, her eyes aflame once more. Jesus, Lafayette, and Tara are begging her to reverse the memory erasing incantation she cast on Eric. She claims that she has tried, with no success. They are frustrated that they cannot find the proper incantation. A book suddenly flies off a shelf and lands on the shop floor. Marnie picks up the book and realizes it contains a spell that should reverse the curse.
Portia introduces Bill to her grandmother, Caroline Bellefleur. Andy, who is living in the large home, comes downstairs to leave, but is prompted to stay by his grandmother. Bill and Caroline go through a family tree and realize that Bill's great-great-great-great-granddaughter is none other than Portia. He leaves.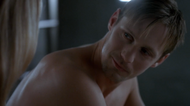 Sam pays a surprise visit to Luna, who isn't happy to see him. He asks why she is allowed to make spontaneous visits but he cannot do the same. A young girl comes out the front door, Luna's daughter Emma Garza. Sam asks her questions about her dolls and she begs her mom to let Sam come in and play. Luna relents and Sam spends the day with them. While relaxing on the sofa, Luna explains that her ex-husband, Marcus Bozeman, is a werewolf. She warns that he is very jealous and often spies on her.
Arlene, Terry, Lisa, and Coby are shocked to see Mikey sitting alone on the floor playing with a red marker, with the words "BABY NOT YOURS" scrawled on the wall in red. Terry does not believe Arlene when she says the ghost of Rene wrote it, and she asks if he thinks it is more likely a baby wrote it.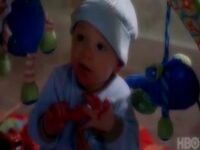 Sam is confronted by Mrs. Fortenberry, accusing him of being behind Tommy's sudden disappearance. Tommy is visiting his mother Melinda at her trailer. She claims to have left Joe Lee. While they relax around the fire, Joe Lee sneaks up and attacks Tommy. Joe Lee chains Tommy around the neck, vowing that Tommy has taken his "last free breath."
Jason makes it to a main road and collapses. Hoyt and Jessica are driving by in their truck and spot him. Jessica runs to Jason and makes him drink her blood. The headlights from the truck cause a beautiful glow around Jessica, as Jason opens his eyes and sees her.
Bill approaches Sookie's home looking for Eric. He threatens to search her house for Eric, but she stops him. She tells him that she has never once lied to him then claims that Eric is not there; Bill believes her and leaves.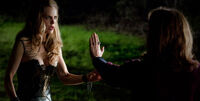 With the spellbook in hand, Marnie attempts to reverse the spell. She, Pam, Lafayette, and Tara stand outside in a circle. Marnie begins to chant, while Pam complains and threatens her. Suddenly, Marnie drops her spellbook and gets a strange look on her face. She starts chanting again in Spanish ("Walking corpse, see yourselves for what you are"). The skin on Pam's face begins to burn off. She lifts her hand and touches her cheek, pulling a chunk of skin away. She screams and leaves at vampire speed. Marnie, her eyes filled with the fire spirit, smiles again before fainting dead away.
This episode currently hasn't received any awards.
This episode does not contain any allusions.
Bloopers and Continuity Errors
[
edit
|
edit source
]
Caroline Bellefleur is portrayed to know all the Bellefleur's family tree, but strangely she never mentioned the Compton ascendants to her grandchildren before she met Bill, or apparently that was just a fact everyone forgot.
There are no continuity notes for this episode.
Marnie has a dream that flashes back to Antonia being burned at the stake for being a witch.
There are no miscredits that occur in this episode.
"I'm Alive And On Fire" - Danko Jones
"Do You Remember" - La Luna
"Twintin' Wind" - Helen Henderson
"Calling the Shots" - Mississippi Mike Wolf
"Butt Me Buster" - Helmut Reinhardt
"Moonlight Remembers" - APM Music
"Tighten Up" - The Watson Twins
There are no notes on the title based on this episode.
There is currently no trivia associated with this episode.
Eric Northman:
"I don't want to go back to the dark."
"I'll never swim in the sun again. Never feel the heat on my skin. Never see the daylight in your hair."
(to Alcide) "Be prepared to die you stinking dog!"
(to Sookie) "If you kiss me, I promise to be happy."
Marnie Stonebrook:
"People are so violent, so perplexing. Just leave me alone with the dead."
(to Pam) "Stop saying fuck! I can't concentrate."
Pamela Swynford de Beaufort: (to Bill) "You like the feel of it don't you... that crown."
Sookie Stackhouse:
(to Alcide and Eric) "Grow up, you giant babies! Alcide, stop making that noise! Eric, put up those fangs and do what I say!"
(to Eric) "You can't have more, there isn't any more, you drank the whole fairy and you're going to your room."
(to Eric) "There's big gators in there you crazy viking. Get on out and lets go home before one of them chomps off your you know what!"
Sookie Stackhouse: "Hey! did you just pinch my butt?"
Eric Northman: "Beautiful butt!"
Sookie Stackhouse: "Well thanks but hands off!"
Episode #
Episode Title
Viewers (in millions)
#4.03 (40)
"

I'm Alive and on Fire

"
5.10
Community content is available under
CC-BY-SA
unless otherwise noted.