'True Blood' Profile: Hoyt Fortenberry
Play Sound
Date of death
{{{Death}}}
Powers
All human abilities
Repairing
Attractive to Vampires

Has shifted into
{{{Shifts}}}
Notable Progeny
{{{Progeny}}}
Notable kills
{{{Kills}}}
Cause of death
{{{Cause of death}}}
Killed by
{{{Killed by}}}
Hair color
{{{HairColor}}}
[[:Category:{{{Images}}}|Images]]
"I want you to see if you can try to catch your breath, and once you've caught it, I want you tell me the story of us."
―Hoyt Fortenberry, to Jessica Hamby
Hoyt Fortenberry was a major character on the HBO original series True Blood. Played by American starring actor Jim Parrack, Hoyt makes his debut in the series' premiere episode, "Strange Love" in the series' first season. A resident of Bon Temps, Louisiana, Hoyt was working for the State of Louisiana Department of Transportation road crew along with Lafayette Reynolds, under the direction of Jason Stackhouse. Playing a recurring role through the series' first, second, third, fourth, and fifth season, Hoyt was in a relationship with the young vampire Jessica Hamby, and moved to Alaska after they broke up. He returns to play a recurring role through the series' seventh season, and winds up marrying Jessica Hamby in the series' finale episode, "Thank You", in the series' seventh, and final, season.
Personality
[
]
Sweet and good-natured, he is the only person Sookie Stackhouse knows whose thoughts are consistently kind and broad-minded. He is also remarkably progressive toward vampires and other social outcasts. This is in stark contrast to his mother, Maxine Fortenberry, who was extremely prejudiced and judgmental of most people, humans and vampires alike. His lack of experience with, and high respect for, women makes him extremely shy around them. Unlike his best friend Jason Stackhouse, he has no desire for frivolous hook-ups, and remains a virgin until he meets and falls in love with the vampire Jessica Hamby. For the majority of Season 1, he is bossed around by his mother, but begins to assert his independence in Season 2. Throughout the series, his character development shifts from happy-go-lucky to a much more serious and emotional young man.
Biography
[
]
Powers and Abilities
[
]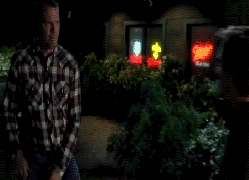 Although fully human, Hoyt is quite strong, which is likely due to his athletic lifestyle in high school, and his strenuous professions of working on a road crew and an Alaskan oil-drilling ship. He is strong enough to knock out Jason Stackhouse with a single blow. ("Love is to Die")
He also has all other human abilities.
Notes
[
]
Gallery
[
]
Images
[
]
| | |
| --- | --- |
| | There is an image gallery for |
Appearances
[
]