"Hitting the Ground" is the seventh episode of Season 3 of the HBO original series True Blood, and the series' thirty-first episode overall.
Summary
Imperiled by Lorena, Sookie goes to extremes in her attempt to save Bill – with unforeseen consequences. Sam infiltrates a dogfighting ring to extricate Tommy from his parents' greedy influence. Jason heads to jail to uncover the truth about Crystal; Summer makes a home-cooked play for Hoyt's affections; Debbie vows revenge on Alcide; Eric uses Hadley as bait to get information from Sophie-Anne; Russell turns his back on the Authority, and on the Magister.
Synopsis
"You wouldn't know love if it kicked you in the fangs!"
― Sookie Stackhouse, to Lorena Krasiki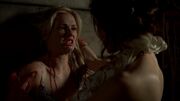 In the basement where Lorena is still torturing Bill, the distraction of Sookie's unusually delicious blood opens the door for Bill to get the drop on Lorena. He uses his last bit of strength to throw his silver chains around her neck, which leads to her death by staking courtesy of Sookie. Tara then shows up with Alcide but Sookie refuses to leave without Bill.
As they are wrapping Bill up for daylight transit, Alcide's ex Debbie enters with a revolver. Tara think-tells Sookie to create a distraction, during which she tackles Debbie - Alcide recovers the gun, Cooter enters, and charges Alcide, who shoots him. Cooter continues to charge toward Alcide, who shoots him again, this time in the head, killing him. Debbie flips out and goes after a still-armed Alcide who locks her in the basement. As they make a getaway, Sookie rides with Bill in the back of Alcide's work van, and after giving him some of her blood, she is attacked by the dying, starving and half-crazed Bill.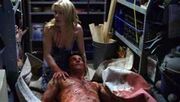 Alcide stops the van to answer nature's call, and Tara gets no response from Sookie when she knocks on the van's rear panel door. Opening the door reveals a confused Bill next to an unconscious, and covered in blood Sookie. A "V" charged Tara kicks Bill out into the sunlight, and to his own amazement, he does not burst into flames but merely begins to smoke a little.
At the hospital we learn that the doctors are unable to identify Sookie's blood type. Sookie's system rejects any transfused blood - including O-, the universal donor type, and she remains comatose.
Tara calls Jason to tell him about Sookie, and he rushes to her bedside telling her how much he needs her, with Tara joining him in his sentiment. As Sookie's next of kin, he is not sure how to handle the situation, but reveals that he has a normal blood type, that Sookie has never been sick, and that she was not born in a hospital.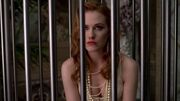 Sookie appears to enter a dream-state meeting Claudine Crane, who guides her through the "dream." Claudine, who can communicate with Sookie, urges Sookie to come with them to their home, but that she must swim there. Sookie tells her she can't swim, and after reading Sookie's thoughts, and understanding why, Claudine tells her that it wasn't the flood that killed her parents. Just then a darkness begins to cover the area, coinciding with Bill's entrance into Sookie's hospital room.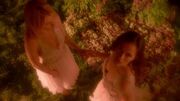 Claudine asks Sookie to promise not to give her light to the darkness. In the background one of the other people in Sookie's "dream" says in a frightened voice, "I've never seen a vampire before." Back in the waking world, Bill convinces Jason to let him heal Sookie with his blood, obviously against Tara's better judgment. Sookie later wakes up to Bill and screams, her last conscious memory being that of Bill attacking her.
Sam tracks down the dog-fighting operation where his brother has been fighting to support the family. We learn he has a new imprint in his bag of shifts when, in order to infiltrate the dog-fighting compound, he changes into the same pit-bull that Tommy uses as his go-to shift. Pit-bull Sam allows himself to be corralled and taken to the dog cages, shifting back to human form to knock out his would-be jailer. As Pit-bull Tommy's fight begins, Sam triggers the warning alarm and confronts the Mickens about making Tommy fight.
Sam shows his ability to control animals by ordering the Rottweiler Tommy was fighting to leave. He convinces Tommy to leave the Mickens & come with him.
Jason pines for Crystal and Hoyt advises him to talk to the drug dealer he helped apprehend, since he is from the same area. Summer brings Hoyt some homemade biscuits and tells him she wants to be his girlfriend. Jason goes to the jailhouse to confront the drug dealer, and learns that he is actually Crystal's cousin. Suffering withdrawals from meth, Crystal's cousin is just about to agree to tell Jason about her when Andy interrupts.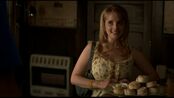 Eric takes Sookie's cousin Hadley to Queen Sophie-Anne and tries to get information about Sookie by draining Hadley. On the verge of death, Hadley suddenly tells Eric what it is that makes Sookie so special, which seems to surprise him. Eric gives Hadley his blood to heal her.
The Magister is still torturing Pam in the basement at Fangtasia when her maker, Eric, shows up with the King of Mississippi, Russell Edgington, and Queen Sophie-Anne, revealing that the queen had ordered Eric to sell vampire blood. Edgington denounces his loyalty to The Authority, and forces the Magister to marry him to the queen. As the king and his party turn to leave, the Magister continues his antagonism, and the king decapitates him which causes his true death.
Trailer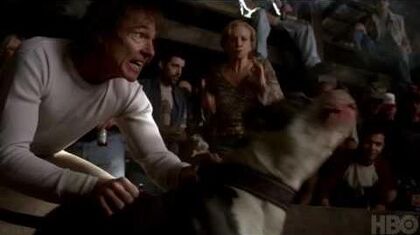 Notes
Accolades
Won the Genesis Award for Best Dramatic Series.
Nominated for an Emmy Award for Outstanding Sound Editing for a Series.
Allusions
This episode does not contain any allusions.
Bloopers and Continuity Errors
Lorena says that she's never tasted anything like Sookie before, but this is not true. Only a week earlier did she sample Barry's blood, who is of the same origin as Sookie, and made exactly the same remarks.
Continuity
We learn that Sookie has a blood type which does not fall within the current typing system for human blood, that she has never been sick, and that she was not born in a hospital. Jason, however, has normal blood.
In large quantities, Sookie's blood seems to guard Bill from the normally fatal effects of the sun's rays.
Sookie's "dream" points more toward her Supernatural nature.
Eric reveals the Queen's attachment to Sookie's cousin Hadley. In this sequence, it is shown that while the queen has told Hadley "some" of the secret of Sookie's supernatural nature, she also attributes her knowledge to her family relation to Sookie. We then see that Hadley reveals this secret to Eric, and that he is surprised by it.
The drug dealer that Jason helped apprehend turns out to be Crystal's cousin.
Sam has gained a new imprint in the form of the pit-bull that is Tommy's go-to shift, and displays his ability to communicate with animals, successfully ordering the other dog in the ring with them to leave.
Russell can tell the geographic origin of a vampire's human life from the smell of their blood. With this ability he narrows The Magister's age by stating that he is from the 9th century.
Bill's maker, Lorena, dies in this episode. (And her brief appearance goes unmentioned in the credits.)
Alcide Herveaux's rival, Cooter, dies in this episode.
The Magister meets the true death in this episode.
Flashbacks
There are no flashbacks that occur in this episode.
Miscredits
There are no miscredits that occur in this episode.
Music
"Mountain Radio" - The Benders
"Can't Drive Me Away" - Stone Temple Pilots
"You Get What You Pay For" - Jason Charles Miller
"Small H2O Blues" - Zebra Junction
"Waiting 'Round to Die" - Townes Van Zandt & Calvin Russell
"Hitting the Ground" - Gordon Gano feat PJ Harvey and Frank Ferrer
Production
There are no production notes available for this episode.
Title
The title of this episode refers to the Magister's severed head literally hitting the ground as the episode ends.
Trivia
There is currently no trivia associated with this episode.
Memorable Quotes
Eric Northman: (upon learning the truth behind Sookie's supernatural powers) "Well I certainly wasn't expecting that..."
Jason Stackhouse: "I didn't think I was smart enough to get depressed."
Pamela Swynford de Beaufort: (to The Magister as he is about to pierce her eyelids with silver Tiffany earrings) "How'd you know I was a Tiffany's girl?"
Sookie Stackhouse: (to Lorena) "You wouldn't know love if it kicked you in the fangs!"
Summer: "I really like you Hoyt and I really want you to taste my biscuits."
Memorable Dialogue
Lorena Krasiki: "What are you?"
Sookie Stackhouse: "I'm the bitch that's gonna kill you!"
Old Inuit song spoken by Lafayette Reynolds to Sookie Stackhouse, Tara Thornton, and Jason Stackhouse at Sookie's bedside:
"I think over again my small adventures, my fears. These small ones that seemed so big. For all the vital things I had to get and to reach. And yet there is only one great thing. The only thing. To live to see the great day that dawns. And the light that fills the world."
Cast
Starring

Recurring

Co-starring

Guest starring

Special guest starring

Uncredited
Gallery
Images
Video
Trading Cards
Episode B1
Episode Ratings
Episode #
Episode Title
Viewers (in millions)
#3.07 (31)
"

Hitting the Ground

"
5.24