Wiki Targeted (Entertainment)
Play Sound
Hard-Hearted Hannah is the sixth episode of Season 2 of the HBO original series True Blood, and the series' eighteenth episode overall.
Summary
[
]
Tara and Eggs are driving down the highway when he suddenly realizes he has memories of having been there before. As he explores the nearby woods, he realizes it is an evil place. Sam and Daphne are having a good time and go frolicking in the woods. She has a surprise for him that is not welcome. Eric is out to take possession of Sookie and has Bill's old girlfriend, who has not seen him for 70 years, come to town. We learn that Bill was not always the gentle, mild-mannered vampire he is today. In Dallas, Sookie is partnered with Hugo - another human who is dating a vampire - for their visit to the Light of Day Institute. Posing as an engaged couple looking for a church to wed, they meet the Newlins and have a tour of the church - but Steve also has a surprise for them. Jason is asked to build a scaffold for a sunrise ceremony where a vampire will be exposed to the dawn sun before the entire congregation. Jason is having serious doubts about whether he wants to be part of this group.
Synopsis
[
]
"I made you. Your blood knows mine.
You will never physically overpower me."
― Lorena Krasiki, on her power over Bill Compton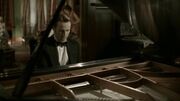 Isabel Beaumont drops in on Bill and Sookie at the Hotel Carmilla with her human boyfriend, Hugo Ayres. Hugo and Sookie bond over their mutual relationships with vampires as they prepare to infiltrate the Fellowship of the Sun to learn where the church has hidden Godric. At the church, Sookie and Hugo are greeted by Sarah Newlin, who introduces them to her husband Steve. Using her telepathy, Sookie quickly comes to the conclusions that the Newlins have a captive vampire locked in the basement. After meeting Gabe, the church's drill instructor, Sookie reads Steve's thoughts and finds out that someone has tipped off the Fellowship about their mission; both Sookie and Hugo are then captured and dragged into the basement with a teary-eyed Sarah watching helplessly.
Eric, jealous of Bill's relationship with Sookie, summons Lorena Krasiki to the hotel where he and Bill are staying to drive Bill and Sookie apart. While there, Lorena ruminates on her and Bill's violent past together when they viciously murdered a pair of socialites in the 1920s. Bill tries to resist her, sensing Sookie is in grave danger, but Lorena overpowers him and prevents him from going to Sookie's aid.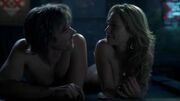 Sam and Daphne continue to grow closer, both physically and emotionally. They go on a shape-shifting run together with Daphne shifting into a pig. They are then chased by Andy Bellefleur, who thinks he recognizes the pig from one of Maryann's parties.
Maryann sends Tara and Eggs on an out-of-town errand. On the way there, Eggs senses something familiar about the environment, even though he has never been there before, and he eventually leads Tara to a spot in the woods where there are bloody clothes and rocks and the charred remains of a fire. Both of them suspect that something gruesome occurred there, but they do not know what. Tara and Eggs return to Sookie's house to find it trashed. They follow a trail of clothes to the backyard where they find some of the townspeople taking part in an orgy while Maryann's image vibrates wildly. Next to her is a bull's head mask that seems to be of some importance to Maryann.
Hoyt admits to his mother that his girlfriend is a vampire after she cancels his phone service due to Jessica's late night calls. After arguing with Maxine, Hoyt drives all the way to Dallas to visit Jessica, who is staying at the hotel with Bill and Sookie.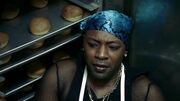 Andy interrogates Lafayette in regards to the murder of Miss Jeanette, his suspicion having been triggered by Lafayette's recent disappearance and uncharacteristically low-key demeanor. Unhinged by Andy's accusations, Lafayette begins to suffer from Post Traumatic Stress Disorder memories of being locked up, causing him to collapse into a ball. He is comforted by Andy's cousin Terry Bellefleur, who works with him. Pam later visits Lafayette and orders him to resume dealing V, though she does not state why.
Luke and Jason are summoned to the Fellowship Church to build a crucifix platform for a ceremony called "meet the sun", in which a vampire will be tied to the cross just before dawn and left to burn in the sun.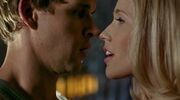 At the church, Sarah turns to Jason for help. She tells him that Steve is not the man she thought he was, and that he is planning on starting a war with the vampires. She tells Jason that they were meant to be together. Jason tries to resist, but she convinces him that it's God's will that they be together and they end up having sex on the balcony of the sanctuary in the church.
Daphne tries to lead Sam toward the orgy, but he is hesitant about the drum music. Two people then jump out of the woods and grab Sam, dragging him to the orgy where he sees the ritual taking place. Daphne helps Maryann into the bull's head mask, and Karl approaches with a sacrificial knife. Sam lets out a cry for help as Maryann prepares to sacrifice him.
Trailer
[
]
Notes
[
]
Accolades
[
]
Louise Innes

was nominated by American Cinema Editors for Best Edited One-Hour Series for Non-Commercial Television
Allusions
[
]
The title of the episode is also the title of the song that Bill sings in the first flashback scene. The song was first published in 1924 and has been sung by many performers such as the Ray Charles Singers, Ella Fitzgerald and Nancy Sinatra.
When Tara and Eggs are following the articles of clothing on the ground, Tara compares it to a similar scene in the film E.T. the Extra-Terrestrial.
Bloopers and Continuity Errors
[
]
Continuity
[
]
There are no continuity notes for this episode.
Flashbacks
[
]
Lorena has a flashback to 1926 when she and Bill preyed upon a human couple.
Miscredits
[
]
There are no miscredits that occur in this episode.
Music
[
]
"Dark Horse" - Extreme Music
"Reflections" - Joel Evans & Friends
"Real Love" - Von Daler & Low Pressure ft. Natasja
"Hard Hearted Hannah (The Vamp From Savannah)" - Bill Compton
"Two Angels" - Peter Case
"Dead Flowers" - Rolling Stones
"Gator Blues" - Willie Arons & Joey Peters
"Walk First" - Steve O. McComb
"Shakin' All Over" - Eilen Jewell
"Get You Back" - Son of Dave
"So To Speak" - DJ Accucrack
"Maenad's Delight" - Bruno Coon
"Hard Hearted Hannah" - Dolly Kay
Production
[
]
There are no production notes available for this episode.
Title
[
]
There are no notes on the title based on this episode.
Trivia
[
]
The song that Bill plays on the piano in 1926 is the same one that he was practicing in Season 1's finale.
The man playing the piano in the present when the scene flashes back to 1926 and Bill playing the piano is Nathan Barr, the composer for True Blood.
Memorable Quotes
[
]
Luke McDonald: "Right up there with incest and bestiality--all of them ain't half as bad as if you did it to a vampire, or to a dude, or a vampire dude. That's like cream de la cream of sins. Ain't no repentance for that. Straight to hell, baby."
Lorena Krasiki: "I haven't seen Bill Compton in over 70 years. Surely you can't think I have any pull over him whatsoever."
Pamela Swynford de Beaufort:
"Eric sent me with a request. You're back in business."
"So sorry, but you're very much back in this shit."
Memorable Dialogue
[
]
Cast
[
]
Starring

[

]

Recurring

[

]

Co-starring

[

]

Greg Collins as Gabe

Christopher Gartin

as Hugo Ayres

Lenny Schmidt

as

Sidney

Kim McKean

as

Younger woman

Mary Portser

as

Bonita Lou Morris

Guest starring

[

]

Special guest starring

[

]

Uncredited

[

]
Gallery
[
]
Images
[
]
Video
[
]
Trading Cards
[
]
Episode B1
[
]
Episode Ratings
[
]
Episode #
Episode Title
Viewers (in millions)
#2.06 (18)
"

Hard-Hearted Hannah

"
4.00