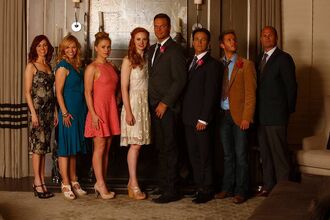 The "Hamby-Fortenberry Wedding" was the marriage ceremony between Jessica Hamby and Hoyt Fortenberry in the seventh, and final, season of the HBO original series True Blood.
The event unfolded at the Compton house with a guest list that included: Bill Compton, Sookie Stackhouse, Jason Stackhouse, Andy Bellefleur, Arlene Fowler Bellefleur and Holly Cleary. Sookie served as Jessica's maid of honor and Jason served as Hoyt's best man. Bill walked Jessica down the aisle and Andy officiated the service.
Although rushed, both Hoyt and Jessica agreed to wed before Bill succumbed to Hep-V, as Jessica wanted him to be able to walk her down the aisle and give her away. The ceremony was a hastily prepared but heartfelt event, in which Sookie provided Jessica's dress and Jason selected pink roses from outside as boutonnieres. Arlene helped with the music. Despite the ceremony technically not being legal, Andy married Jessica and Hoyt as the town's sheriff. He said that although the state of Louisiana did not recognize the union, he had no doubt that God did.
Notable events
Edit
This event took place during the series finale, "

Thank You

".
The occasion embodied the culmination of the development of all characters involved as well as the achievement of peaceful and accepting interracial relations that evolved throughout the series.
Bill spoke with Andy in private before the ceremony and explained that his home would rightfully belong to him after his death. He wished that Andy would rent out the home to Jessica and Hoyt for the fee of $1.00 a month (and to ignore the fee if they forgot to pay) essentially giving them the house, since Bill could not do so legally.
Sookie was able to hear Bill's thoughts. This was the first time in all 7 seasons of True Blood that Sookie could hear a vampire's thoughts. This may indicate that the progression of the virus combined with her fae blood was somehow making Bill more human.
Wedding pictures were released via Jessica Hamby's blog: Babyvamp-Jessica. In this blog, Jessica identified herself as Jessica Hamby-Fortenberry.
Image Gallery
Edit