Wiki Targeted (Entertainment)
Play Sound
"Frenzy" is the eleventh episode of Season 2 of the HBO original series True Blood, and the series' twenty-third episode overall.
Summary
[
]
With the crisis in Bon Temps careening out of control, Bill seeks out the advice of Sophie-Anne, the Vampire Queen of Louisiana, but must exercise patience before she gives him critical information. Meanwhile, Sookie and Lafayette find that protecting Tara from herself is more difficult than they anticipated; a desperate Sam turns to an unlikely source for assistance; and Hoyt's allegiance to Maxine is put to the test by Jessica.
Synopsis
[
]
"I haven't enjoyed sex with men
since the Eisenhower administration."
― Sophie-Anne Leclerq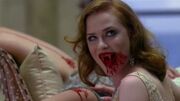 Bill walks into the Vampire Queen of Louisiana, Sophie-Anne's, mansion to find her, feeding from the femoral artery of a young girl. Bill asks her advice on how to defeat Maryann and Sophie-Anne makes Bill reluctantly spend the entire day lounging with her inside her day room before she will tell him what she knows.
Hoyt takes his mother Maxine away from Jessica after seeing her more violent side, and says he should have listened to Bill's warnings about her. Tara proves difficult for Sookie, Lafayette and Lettie Mae to handle, as she insists on going after Eggs. Tara manages to convince her mother that God wants her to let her go and Lettie Mae holds Sookie and Lafayette at gunpoint while Tara makes her getaway.
Sam finds Coby and Lisa Fowler – Arlene's young children – wandering around the woods hiding from their mother and the rest of the townspeople. Sam takes them in and feeds them. While they eat the children suggest Sam seek out a vampire to find out how to return their mother to normal. Jason and Andy, meanwhile, decide to take action against Maryann and, ignoring Sam's advice that Maryann cannot be stopped with violence, they go to the Bon Temps Police Station to arm themselves.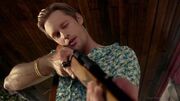 Sookie and Lafayette manage to liberate themselves from Lettie Mae and go after Tara. Tara goes to Sookie's house and find Eggs in the kitchen but is unable to get him out before Maryann shows up. Soon Tara is once again under her influence. Sam takes the kids to Fangtasia and asks Eric for help.
The Viking vampire agrees to ask Sophie-Anne's advice about stopping Maryann. The townspeople tell Maryann that the god came and smote Sam, but Maryann deduces that the mob has been tricked by Sam's shape-shifting and angrily orders them out with a high pitched sound that emanates from her.
Hoyt tries to deal with Maxine on his own, but she continues to insult him and even reveals that his father killed himself because he was weak. She says that he was not shot by burglars as Hoyt believed. Sookie and Lafayette arrive at Sookie's house and, while Lafayette distracts Terry and Arlene with drugs, Sookie sneaks inside. After a brief and disturbing encounter with Mike, she makes her way upstairs. Lafayette runs into Maryann and Karl. Lafayette shoots at Maryann but she blocks the shot with her hand with ease, and the bullet ricochets off her hand into Karl's head, killing him.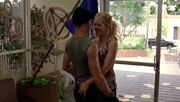 Sophie-Anne, Bill and two human companions are playing Yahtzee. Bill gets up to leave when Sophie-Anne finally reveals to Bill that Maryann is waiting for her god to come and bring her "true death" and that Maryann can be killed only after she thinks her god has come for her. When she steps aside to talk to a guard, Bill speaks to the female girl, and we learn her name is Hadley Hale, and she is Sookie's cousin. Bill departs for Bon Temps, running into Eric on the way out. He threatens to reveal to Sophie-Anne that Eric is making Lafayette sell vampire blood "V" unless he stays away from Sookie.
Jason and Andy put aside their differences to defeat Maryann and Bill shows up at Sam's place.
Sookie finds Tara and Eggs in her Gran's room, building a large nest on the bed in which sits a large, unhatched egg. Sookie screams for help as Lafayette, now also under Maryann's influence, advances on her.
Trailer
[
]
Notes
[
]
Accolades
[
]
Nominated for an Emmy Award for Outstanding Art Direction for a Single-Camera Series.
Allusions
[
]
The episode title is taken from the name of a 1972 thriller by Alfred Hitchcock.
Jason mentions that he read about these events in a book and then states that "this is the oral history of the zombie war." He is most likely referring to World War Z, by Max Brooks.
Bloopers and Continuity Errors
[
]
When Tara is talking to her mother her blouse straps are up but then change positions, most noticeably her left strap which is down in some cuts but up again in others. Since Tara is handcuffed to the table, there isn't even the slight chance that she adjusted them and they slipped off again.
Eric accuses Bill of feeding Sookie his blood the very night they met, but it wasn't until the second night after they met that she drank his blood in order to save her from the beating the Rattrays gave her.
When Sophie-Anne and Bill discuss why Bill wasn't able to feed off Maryann's blood, Sophie-Anne tells Bill vampires "can only feed off humans, and she is no longer even remotely human." However, vampires have been shown feeding off various nonhuman species; fairies (Bill, Eric), werewolves (Bill, Jessica, etc.) and even other vampires (Russell Edgington).
When Lafayette and Sookie are riding in his convertible, the gun is stashed upright between their seats. The gun's folding sight is up when looking toward Sookie, but folded down when looking toward Lafayette.
Continuity
[
]
There are no continuity notes for this episode.
Flashbacks
[
]
There are no flashbacks that occur in this episode.
Miscredits
[
]
There are no miscredits that occur in this episode.
Music
[
]
"You Made Me Love You (I Didn't Want To Do It)" - Harry James
"Save Me Tonight" - Sonny Ellis - Black Toast Music
"Frenzy" - Screamin' Jay Hawkins
"Pickle Up A Doodle" - Sung by Sheriff Dearborn
"Elective Surgical Strike" - Acumen Nation
"Good Life" - Ann-Margret
"Softblow Glow" - Extreme Music
"Set Em' Up Joe" - Extreme Music
Production
[
]
There are no production notes available for this episode.
Title
[
]
There are no notes on the title based on this episode.
Trivia
[
]
There is currently no trivia associated with this episode.
Memorable Quotes
[
]
Arlene Fowler: "The fine will be one hundred million dollars... and your pants."
Eric Northman:
"Goodnight tiny humans."
"Whats the matter little girl? Don't you like vampires?"
"Hoping the queen can tell me how to kick a maenad's ass."
"Oh Billy, this paranoia it's really quite unbecoming."
"They're like humans but miniature. Teacup humans."
Pamela Swynford de Beaufort:
(about children) "I hate them. They're so stupid."
"That thing owes me a pair of shoes."
Sophie-Anne Leclerq:
"Who's the smartest boy in class?"
"A Maenad? In Bon Temps? That's random!"
"Remember, they've been trying for centuries. They're constantly improvising their recipes in hopes of finding that one magic element that would make it all happen...idiots."
"You two really should just fuck each other and get it over with. I could watch."
"Everything that exists imagined itself into existence."
Memorable Dialogue
[
]
Sophie-Anne Leclerq: "Well, it seems like your friend Mr. Northman is here."
Bill Compton: "Now it's definitely time for me to go."

Sophie-Anne Leclerq: "Maenads are sad, silly things... The world changed centuries ago and they're still waiting for the God Who Comes."
Bill Compton: "Does He ever come?"
Sophie-Anne Leclerq: "Of course not. Gods never actually show up. They only exist in humans' minds, like money and morality."
Bill Compton: "Is this a bad time?"
Sophie-Anne Leclerq: "Ahh! haha! a bad time? There's no such thing as bad or time for that matter. Wanna join me?"
Cast
[
]
Starring

[

]

Recurring

[

]

Special guest starring

[

]

Guest starring

[

]

Co-starring

[

]

John Rezig as

Kevin

Leonardo Ciacci

as

Frenzy man in dress

Uncredited

[

]
Gallery
[
]
Images
[
]
Video
[
]
Trading Cards
[
]
Episode B1
[
]
Episode Ratings
[
]
Episode #
Episode Title
Viewers (in millions)
#2.11 (23)
"

Frenzy

"
5.19