Wiki Targeted (Entertainment)
Play Sound
Powers
All human abilities
Spell Casting
Shifting into a demon
All demon abilities
[[:Category:{{{Images}}}|Images]]
"Take the spirit inside you."
―Don Bartolo
Don Bartolo, known simply as Bartolo, was a minor antagonist on the HBO original series True Blood. Played by American guest starring actor Del Zamora, Don makes his debut on the episode "I Smell a Rat", in the series' third season. A brujo, like his grandson, Jesus Velasquez, Don plays a recurring role through the series' third, fourth, and fifth seasons, and was last seen in the Season 5 episode "In the Beginning".
Personality
[
]
Biography
[
]
Background
[
]
Season 3
[
]
Don Bartolo first appeared in Jesus's hallucination after taking Vampire Blood with Lafayette. He is shown to practice some kind of black arts as implied by Jesus himself to Lafayette. ("I Smell a Rat")
Season 4
[
]
In Jesus's flashbacks Don Bartolo is again pictured presenting his grandson with a goat that he planned to sacrifice. Although Jesus wanted the goat as a pet, he reluctantly killed the goat with a ceremonial blade also given to him by his grandfather. After consuming the goat's blood, Jesus was overwhelmed with the power of an unknown source. After realizing the purpose of Don Bartolo's "gift", Jesus was taken by his mother where they spent the next few years running away from him. ("Me and the Devil")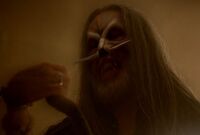 Jesus and Lafayette travel to Mexico, where he lives, so they can get any helpful info on how to defeat the vampires. Don Bartolo, on the other hand, doesn't seem to be any help as he locks them up in the house and infects Jesus with a rattlesnake bite, then Tio Luca possesses Lafayette and cures Jesus. ("I Wish I Was the Moon")
Bartolo, now apparently calm, tells Lafayette that he has the magic. He says that the poisoning was a test to prove that the magic was within Lafayette. He allows Lafayette and Jesus to leave. ("Cold Grey Light of Dawn")
Season 5
[
]
Lafayette and his mother Ruby Jean are both visited by the appearance of Jesus' decapitated talking head in a vision. Ruby Jean manages to understand Jesus' message and informs Lafayette that Jesus is "in trouble" and "with an evil man". Lafayette immediately connects her words to Bartolo and travels to Mexico, where Bartolo traps him and reveals that it was he who took his grandson's body.
Bartolo reveals he plans to transfer back the brujo magic Jesus implanted in Lafayette by performing an ancient ritual. The ritual involves cutting Lafayette and taking his blood, while the head of Jesus watches. However, Bartolo's wife Maria kills him by repeatedly stabbing him and frees Lafayette. ("In the Beginning")
Gallery
[
]
Images
[
]
Appearances
[
]
Season three appearances
"Bad Blood"
"Beautifully Broken"
"It Hurts Me Too"
"9 Crimes"
"Trouble"
"I Got a Right to Sing the Blues"
"Hitting the Ground"
"Night on the Sun"
"Everything Is Broken"
"

I Smell a Rat

"
"Fresh Blood"
"Evil is Going On"
Season five appearances
"Turn! Turn! Turn!"
"Authority Always Wins"
"Whatever I Am, You Made Me"
"We'll Meet Again"
"Let's Boot and Rally"
"Hopeless"
"

In the Beginning

"
"Somebody That I Used to Know"
"Everybody Wants to Rule the World"
"Gone, Gone, Gone"
"Finally"
"Save Yourself"