[[:Category:{{{Images}}}|Images]]
The Bon Temps Church is a building used for religious worship, found on the HBO original series True Blood. Operating in the predominantly Christian town of Bon Temps, Louisiana, the Bon Temps church has a reputation for being a significant community center in which local residents can congregate.
Background
Edit
During the series' first season, protagonist Sookie Stackhouse's grandmother, Adele Stackhouse, booked the church for a meeting of the Descendants of the Glorious Dead committee. Ex-confederate soldier, and vampire Bill Compton, spoke at the church of his experiences during the Civil War.
Hoyt Fortenberry's mother, Maxine hastens to cover up the large cross on the church altar (using the American flag), assuming that a vampire would react badly to encountering a big cross.
When Bill enters, the first thing he does is to uncover the cross, telling the audience that vampires aren't adversely affected by crosses or churches.
He then goes on to do a masterful job of answering the townspeople's questions about vampires, while telling his personal story of the civil war, and generally charming the audience (in spite of a group of rednecks who attempt to harass him with a garlic press). 
The church appears again for a scene where the people of Bon Temps get together - in the wake of a shortage of "Tru Blood" - to defend themselves against bands of roaming vampires. They take a blood test for "Hep V" (a new virus created to kill vampires) and Sam Merlotte tries to persuade those uninfected in the congregation to voluntarily allow a vampire to feed on them. 
Notable Visitors
Edit
Notable Events
Edit
Filming Locations
Edit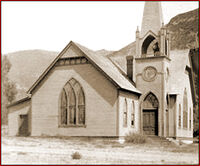 This is actually the historic United Methodist Church, at 3875 Center Street, in Piru, CA. The church was built in the winter of 1888, by the town founder, David C. Cook, a publisher of religious materials, from Elgin, Illinois, who had come to California for health reasons. Fruit trees mentioned in the Bible were planted in a garden near the church, and the church contains a rare pipe organ built in 1862 (during the Civil War).
The church is located about a mile north of E. Telegraph Road (the main highway in the area), at the north end of Church Street, at Church & Center. Piru is a tiny town located north of Los Angeles, about 15 miles west of Six Flags Magic Mountain (in Valencia).
Above is an historic photo of the Piru church from long ago. The steeple has been altered, but the rest of the church remains remarkably similar.