"Beyond Here Lies Nothin'" is the twelfth and final episode of Season 2 of the HBO original series True Blood, and the series' twenty-fourth episode overall.
The mayhem in Bon Temps reaches a fever pitch as Maryann prepares for her ultimate bestial sacrifice, conscripting Sookie to be Maid of Honor at the bloody nuptials. Meanwhile, Sophie-Anne warns Eric to keep the lid on Bill's inquisitiveness; Jason leads Andy into the heroic abyss; and Hoyt has a hard time swallowing Maxine's endless stream of insults. Deliberating on what may be his final move to save Sookie and the town, Sam is forced to put his trust, and his life, in a most unlikely ally; Eric.
"I would've taken you over by now.
Come on, it'll be our little secret. What are you?"
― Maryann Forrester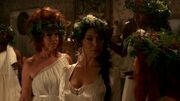 Maryann appoints Sookie as her "Maid of Honor" in her upcoming "wedding" and asks her to repeat her "electric" touch. Sookie however fails to do so. She is then restrained by an entranced Lafayette. Jason and Andy try to advance on the crowd with an arsenal of weaponry, only to become entranced themselves.
Bill finds Sam at Merlotte's and orders him to come with him to see Maryann. Bill offers Sam to Maryann in exchange for Sookie's safety. Sookie strongly objects to this, but Bill asks her to trust him. Eggs stabs Sam while he is hung from Maryann's offering and offers some of Sam's blood to Maryann. She rubs the blood on her body. Sam has not died and tells Sookie to destroy all of Maryann's ritual offerings. Sookie complies and pushes over the offering statue using her powers.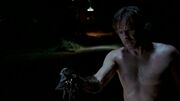 An enraged Maryann pursues Sookie with her poisonous claws. She is stopped by a bull whom she believed to be the "God Who Comes". Offering herself to the "God", the bull stabs her in the chest with its horns. As Maryann starts to die, the bull transforms back into Sam who finishes the job by removing Maryann's heart. Bill reveals to Sookie that he allowed Sam to drink his blood so he could recover after being stabbed. Bill also thanks Sam for his trust and for helping save the town of Bon Temps. Hoyt learned that his mom, Maxine was not lying about his dad having committed suicide. Deeply disturbed by this, he walks out on her to go find Jessica again. When he arrives at Bill's house, nobody is there. Jessica, after telling Bill she was going to apologize to Hoyt, instead went to a gas station and fed on an unsuspecting truck driver.
Sam visits his adoptive parents The Merlottes. His adoptive mother, Sue Ann Merlotte cries and still can't accept that Sam was a shapeshifter. His adoptive father, Mitch Merlotte who appears deathly ill, writes a response to Sam's request. He tells Sam who his real parents are despite his adoptive mother's warnings that they are bad people.
Eggs is deeply disturbed by the recent happenings and begs Sookie to help him uncover his actions during his blackouts. With her help he learns that he was the one who murdered Miss Jeanette and Daphne. He is also the one who stabbed Sam. Incredibly distraught over the things he has done, Eggs holds Andy at knife-point begging to be arrested. Andy tries to explain that all of his actions were not of his own free will. Jason, seeing the hold-up from afar, does not realize what is happening and shoots Eggs.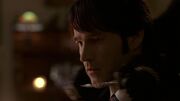 Jason is horrified after realizing he killed Eggs, but Andy takes his gun, wipes it off and tells Jason to leave. Andy says that Jason "was not here and didn't see anything." Tara arrives along with many others to see Eggs shot and killed. Upon seeing his dead body she breaks down in tears.
Bill takes Sookie out to a French restaurant Maison de Paris and proposes to her. Sookie is initially confused and afraid because of all of the recent happenings in her life. She leaves the table and takes a moment to compose herself. She decides that she does want to marry Bill. When she returns, Bill is gone and the place had been ransacked. Bill is captured with a silver chain and kidnapped by an unknown assailant.
The episode won the Motion Pictures Sound Editors award for Best Sound Editing – Short Form Dialogue and ADR in Television.
John Benson, Jason Krane, Stuart Martin, Brian Thomas Nist, Bruno Coon, Zane Bruce & Jeff Gunn were nominated for an Emmy Award for Outstanding Sound Editing for a Series.
Alexander Woo was nominated for an NAACP Image Award for Outstanding Writer in a Drama Series.
When Jason is giving Andy his pep talk before they take on the citizens of Bon Temps, he makes several film references:

"Say hello to my little friend," a reference to the film Scarface.
"Hasta la vista, Baby," a reference to the Terminator film franchise.
"I love the smell of nail polish in the morning," which is a misquote of the line "I love the smell of napalm in the morning" from Apocalypse Now.

While Hoyt is restraining Maxine she calls him Norman Bates. Norman Bates is the titular character in the novel and film Psycho.
Bloopers and Continuity Errors
[
edit
|
edit source
]
While Lafayette brings Sookie to Maryann, the next shot was of Eggs holding her, while Lafayette stood behind Maryann, wearing something completely different from the other scene, that was only seconds ago in the timeline.
There are no flashbacks that occur in this episode.
There are no miscredits that occur in this episode.
"Party Lights" - Claudine Clark
"Set Em' Up Joe" - Extreme Music
"Bridal Chorus" - Nathan Barr
"Canon and Gigue in D Major" - Nathan Barr
"Wedding March" - Nathan Barr
"Marie Marie" - Dave Alvin & The Guilty Women
"Zombie For Your Love" - Kim Lenz And The Jaguars
"Gasoline and Matches" - Buddy and Julie Miller
"Before the Night is Over" - Jerry Lee Lewis
"Savin' Up For Saturday Night" - Black Toast Music
"Beyond Here Lies Nothin'" - Bob Dylan
"

Beyond Here Lies Nothin'

" was the fifth episode of the series to be written by Alexander Woo and the first to be directed by Michael Cuesta, who had previously directed a number of episodes of Alan Ball's other HBO series Six Feet Under, including that show's penultimate episode.
Ball said of the finale, "...the first part of the season we had a lot of different storylines taking place in different places and then we wanted to bring them all together ... where everyone was fighting the same fight for the last episode." He also commented on the scene in which Jessica feeds on a truck driver, "She's still a fairly freshly-made vampire. Bill hasn't been much of a maker and she just had a really emotional experience with Hoyt walking out on her. It's part of her instincts as a vampire and her need to feed ... she's just got rage."
The title is taken from the song of the same name, which was written and recorded by Bob Dylan for his 2009 studio album Together Through Life. In the episode, the song is used over the end credits. The song was also used in several promos for the second season. The original title for the episode was Before the Night Is Over, which is the name of a Jerry Lee Lewis & BB King song playing during the scene when Sookie and Bill share a dance in the French restaurant Maison de Paris.
Maryann Forrester: "Was there no God?"
Andy Bellefleur: "You weren't here, you didn't see nothin'."
Jason Stackhouse: "Like, if a tree falls in the woods, it's still a tree ain't it?"
Lafayette Reynolds: "The horned God! Worship it, bitches!"
Sophie-Anne Leclerq: (as Sophie-Ann has Eric Northman on the ground) "You may be the strongest, oldest vampire in my queendom, but if I wanted, I could own your fangs as earrings."
Maryann Forrester: "Come on, Sookie, it'll be our little secret. What are you?"
Sookie Stackhouse: "I'm a waitress. What the f**k are you?"
Sophie-Anne Leclerq: "You know, I think he's monogamous with his human."
Eric Northman: "He's in love with her, yes."
Sophie-Anne Leclerq: "Well, of course he would be, with her. You probably are too."
Eric Northman: "I do not love humans."
Sophie-Anne Leclerq: "She's not entirely human. Have you tasted her?"
Eric Northman: "Sadly, no."
Sophie-Anne Leclerq: "Don't. Ever. One vampire falling in love is bad enough."
Episode #
Episode Title
Viewers (in millions)
#2.12 (24)
"

Beyond Here Lies Nothin'

"
5.11
Community content is available under
CC-BY-SA
unless otherwise noted.