Wiki Targeted (Entertainment)
Play Sound
Also Known As
Bellhop
Bellboy
Porter
Mr. Big Eyes
Rick
Lloyd
- Faerie Godmother
Shorty Horowitz - Grandfather
Unknown Father - Father
Unknown Mother - Mother
[[:Category:{{{Images}}}|Images]]
Barry Horowitz, known simply as Barry or "the Bellboy", is a minor character on the HBO original series True Blood. Played by American guest starring actor Chris Coy, Barry makes his debut on the episode "Shake and Fingerpop" in the series' second season. A halfling with the power of telepathy, Barry is a porter who works at the Hotel Carmilla in Dallas, Texas. When Sookie Stackhouse and Bill Compton stay at the hotel during their investigation of Godric's disappearance, Barry is the bellhop who assists them. Playing a recurring role through the series' second and fourth seasons, Barry was last seen on the episode "She's Not There", at the beginning of the series' fourth season.
Personality
[
]
Biography
[
]
Background
[
]
Barry Horowitz is a porter at the Hotel Carmilla.
Season 2
[
]
Sookie discovers that he is a telepath like her. ("Shake and Fingerpop")
When Sookie and Hugo Ayres are trapped in the basement of the Light of Day Institute by Steve Newlin and Gabe, she summons Barry to get Bill to come and rescue her. ("Never Let Me Go")
However, when he does so, he is captured by Lorena Krasiki who is also holding Bill hostage. ("Release Me")
Lorena feeds on Barry but his life is spared thanks to Bill's intervention with a flat screen TV. ("Timebomb")
Season 4
[
]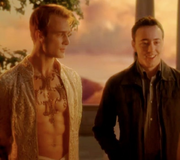 Sookie next sees him when she first arrives to the fairy's world accompanied by his fairy godfather Lloyd. He quickly falls into the trap by the light fruits. His status is currently unknown. ("She's Not There")
Powers and Abilities
[
]
Barry is a Halfling and possesses telepathy, like Sookie. Barry can read minds and hear other people's thoughts. He can also scan or detect minds and other telepaths. Barry can telepathically call or contact Sookie possibly whenever he wants to but they have to be at a distance or know where they are.
Trivia
[
]
In addition to appearing in "The Southern Vampire Mysteries", the series of young adult novels in which the series True Blood is based, Barry also appears in Charlaine Harris' newest series, "Midnight, Texas". Making his debut in the second book of the series, Day Shift, Barry divulges information about his grandfather, Shorty, and Shorty's love for thievery, as well as talking about his grandmother, and his knowledge of Sookie Stackhouse.
Appearances
[
]
Season four appearances
"

She's Not There

"
"You Smell Like Dinner"
"If You Love Me, Why Am I Dyin'?"
"I'm Alive and on Fire"
"Me and the Devil"
"I Wish I Was the Moon"
"Cold Grey Light of Dawn"
"Spellbound"
"Let's Get Out of Here"
"Burning Down the House"
"Soul of Fire"
"And When I Die"