Wiki Targeted (Entertainment)
Play Sound
"Bad Blood" is the first episode of Season 3 of the HBO original series True Blood, and the series' twenty-fifth episode overall.
Summary
[
]
Sookie enlists the help of Eric in her search for the missing Bill. Sam begins his search for his birth parents. Tara falls into despair following Eggs' death and attempts suicide. Lafayette invites Tara's mother, Lettie Mae to help watch over her while Jason and Andy back what she has done. Eric is paid a surprise visit by the Vampire Queen. Bill frees himself from his captors but finds himself a long way from Bon Temps, in Mississippi, and in unfriendly territory.
Synopsis
[
]
"I'm sorry you fell in love with a serial killer, alright,
but, honestly, who here hasn't?"
― Arlene Fowler (Bellefleur)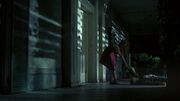 Sookie is distraught over Bill's kidnapping from Maison de Paris and even more distraught when no one will help her find him. She turns to Eric for help in finding Bill. Eric is busy in Fangtasia's dungeon with Yvetta (having been having sex with her for six hours). Andy urges Jason to stay the course after killing Eggs.
Sam continues his search for his birth parents. While on the road, Sam hears a knock on the hotel room door. As he opens it, he sees a naked Bill standing there, and invites him inside. The two begin to have a very heated moment, yet just before they kiss, Sam is awakened from a phone call. He learns that the Mickens were evicted from their home three years ago, but their son, Tommy Mickens is a local. He visits, but Tommy feigns ignorance. Sam then follows him to a house, and stands outside.
Bill is in the car with his kidnappers. They have him restrained in silver and begin drinking his blood. As the four men become inebriated, Bill takes the opportunity to grab the wheel and swerves the car off the road, causing a major crash.
Andy tells Jason to continue behaving like his normal, old self; which means picking up chicks. Later in the episode Jason does just that, bringing two girls back to his house. Every time he looks at them however, he pictures them with bullet holes in their heads, which means he can't perform. The girls leave in a rush after Jason explains that "it's not you, it's just I keep picturing you both with big 'ol bullet holes in your foreheads".
Jessica fed on a guy at a truck stop; she drags him into her house. She tried to save the guy by giving him her blood, but it was too late - he is already dead; his body begins to leave a horrific stench.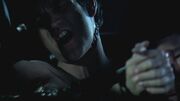 Tara is beyond upset about Eggs. Lafayette takes her to Sookie's house; but when Tara finds out that Sookie had helped Eggs try to recover his memories of killing people for Maryann, she attacks Sookie. Lafayette brings Tara back to his house, and leaves her with her mother, Lettie Mae. Tara decides to take a shower, and her mother lets her because she's too distracted by the Reverend Daniels. Lafayette comes home and is banging on the bathroom door while Tara tries to swallow all the pills she can find.
Queen Sophie-Anne and The Magister arrive at Fangtasia to speak with Eric. They empty the bar and The Magister informs Eric that he is investigating the selling of vampire blood in the area. He says that he suspects a vampire is responsible; he also states that such a crime would have severe consequences. Sophie-Anne agrees that such a thing is unforgivable. After the Magister leaves, Sophie-Anne remarks on how dull he is; she tells Eric she needs money, and that he must sell the vampire blood. Eric informs her that Bill is missing, though Sophie-Anne is not bothered.
While working, Lafayette gets a visit from Pam who tells him he needs to offload all of the V he is currently holding. He tells her there's no way he can find buyers for all his product, she tells him to figure it out after threatening him; then quickly leaves.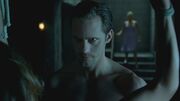 Pam also pays a visit to Sookie's home; while there, she gets a call from Eric and leaves. Sookie realizes that perhaps Bill is trying to reach Jessica, and pays her a visit.
Meanwhile, Bill is seen emerging from the ground. He is in need for human blood and finds an old lady named Olivia alone in her home and is invited inside. He glamours her, and then feeds from her harmlessly. He leaves her unscathed and, as he is leaving, leaves her some cash, saying it is from her son Stanley.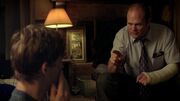 Sookie and Jessica find the wreckage and the body of one of Bill's abductors. The man has a mysterious tattoo. Jessica looks it up on her phone and sees it is connected to something called Operation Werewolf.
Cut to Bill in the woods, who suddenly finds himself surrounded by four werewolves. He says "I should warn you, I fed." His fangs come out, and the episode ends.
Trailer
[
]
Notes
[
]
Accolades
[
]
This episode currently hasn't received any awards.
Allusions
[
]
This episode does not contain any allusions.
Bloopers and Continuity Errors
[
]
There are no bloopers that occur in this episode.
Continuity
[
]
There are no continuity notes for this episode.
Flashbacks
[
]
There are no flashbacks that occur in this episode.
Miscredits
[
]
There are no miscredits that occur in this episode.
Music
[
]
"Good Behaviour" - Powersolo
"Pistol Whip Me Back Into Your Arms" - Acumen Nation
"Crazed Country Rebel" - Hank Williams III
"On the Horizon" - John Lincoln Wright
"Between You and I" - Stoll Vaughn
"A Drink With Hank" - Sean Patrick McGraw
"Necroplasm Fix" - Horrorfall
"Here in This Nowhere Town" - Agona Hardison
"No One But the Dawg" - Steve McComb
"Everybody Wants You" - Billy Squier
"Bad Blood" - Beck
Production
[
]
There are no production notes available for this episode.
Title
[
]
There are no notes on the title based on this episode.
Trivia
[
]
The title of this episode has been changed to "Bad Blood".
Although vampires don't breath because they're technically dead, when Eric gets furious due to a certain Mr. Rubin not finding Bill Compton, his chest clearly raises and falls, meaning that they do in fact "breath" after all.
Memorable Quotes
[
]
Andy Bellefleur: "Conscience off, dick on!"
Arlene Fowler: "I'm sorry you fell in love with a serial killer, alright? But honestly, who here hasn't!"
Bill Compton: "I hear the water in Arkansas is very... hard."
Jason Stackhouse: "But I want to be NEW Jason."
Lafayette Reynolds:
"Bitch...you, me, bridge...it ain't gon never motherf****** happen..."
"We're stealing this, but I'm sure none of you are shocked."
Pamela Swynford de Beaufort: "Now, why'd ya have to go and kill that maenad? She's a terrific decorator."
Sookie Stackhouse: "I'm in no mood for lesbian weirdness tonight, Pam!"
Cast
[
]
Starring

[

]

Recurring

[

]

Co-starring

[

]

Guest starring

[

]

Special guest starring

[

]

Uncredited

[

]
Gallery
[
]
Images
[
]
Video
[
]
Trading Cards
[
]
Episode B1
[
]
Episode Ratings
[
]
Episode #
Episode Title
Viewers (in millions)
#3.01 (25)
"

Bad Blood

"
5.10